Autumn 2017
Editorial Comment & Staff Stuff
This is our last seasonal news page in this our 30th year…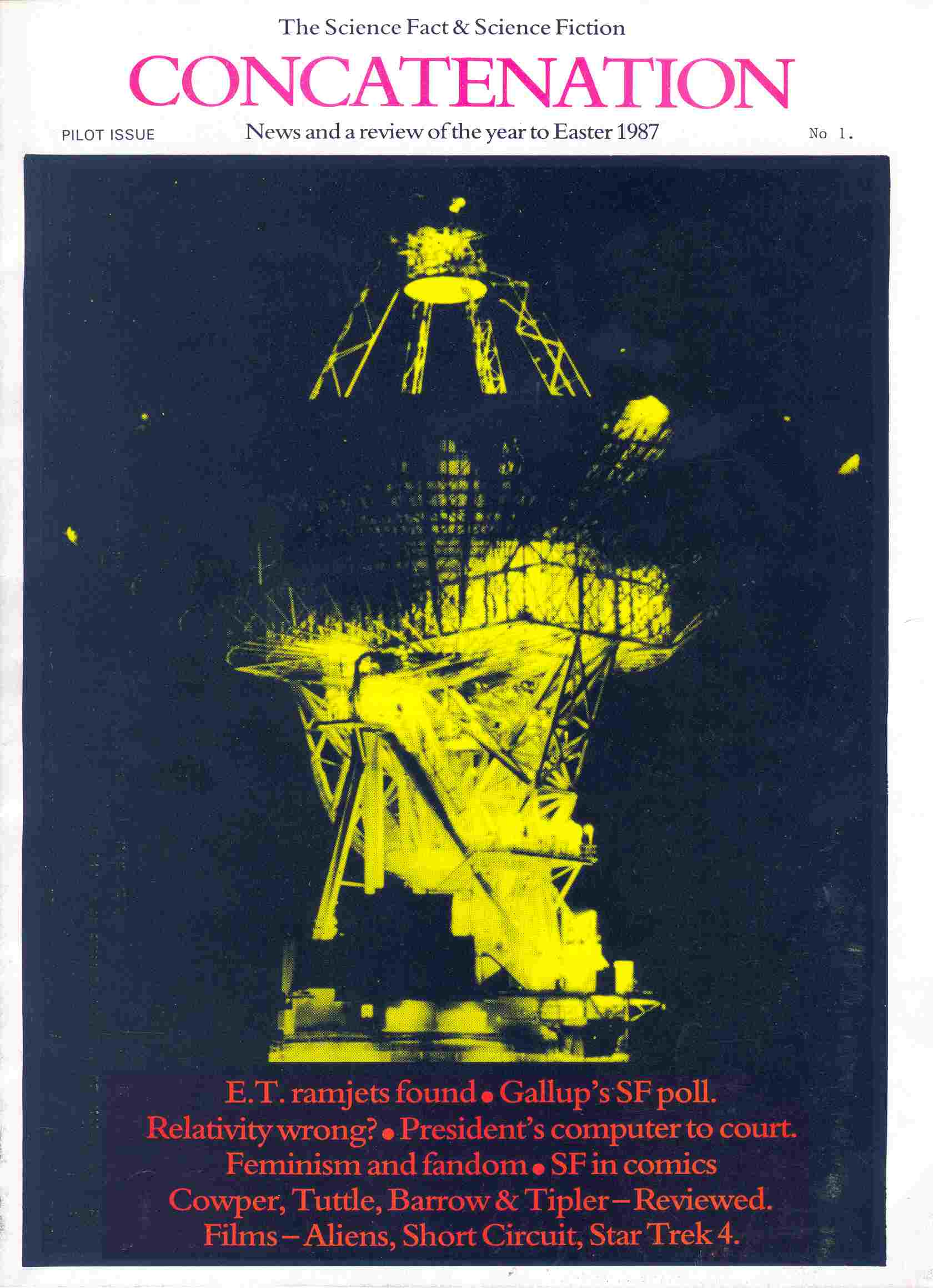 Cover of issue no.1
back when we were
print in 1987.
EDITORIAL COMMENT
It was 30 years ago today that the Concatenation band began to play! We've been going in and out of style, and are almost guaranteed to raise a smile… Yup, we are getting a tad long in the tooth. Nonetheless, we have decided to continue at least until our one-third century mark in three years time irrespective of whether or not then we will be in or out of style. OK, no more editorial comment… On to the staff stuff…
STAFF STUFF
The summer has been a bit horrific with terrorist hits on places we know and love: it was a sad continuation of the spring's violence. First, there was Manchester with a terrible incident taking place literally a stone's throw away from where SF² Concatenation's first edition was printed 30 years ago. And then it was London's turn at a place where a number of the team and a few of its reviewers regularly pass through and a couple of us occasionally socialise. Both incidents could so easily have involved some of us; not that that makes any difference in the grand scheme of things but it does bring it home. Neither events have altered our lifestyles and activities: we will go where we will, socialise where we will and we will not be intimidated. Heck, we Brit Cits will even have had a general election campaign season worthy of Kurt Vonnegut's fiction. Then last month (August 2017) there was another criminal incident, this time in Spain and in Barcelona's Ramblas. This was the area in which the 2016 Eurocon was held, and specifically the street of the convention's outdoor George Orwell guided walk. The van's path effectively travelled the path of the Eurocon Orwell walk… Now onto more pleasant matters…
A number of us attended this year's SF Worldcon. This late summer saw it make one of its comparatively rare manifestations in Europe: well, perhaps not so rare these days given the recent 2013 (London) and the forthcoming 2019 (Dublin) Worldcons. We hope to have a 2017 Helsinki Worldcon con report shortly (next season's edition, Spring 2018 to be posted in January) but have a summary report here, below.
Finally, and as alluded to in our editorial comment above, the summer saw several of the staff gather on a number of occasions. The most notable of which was a 30-year on reunion of many of the 1987 Eastercon committee – the convention that saw SF² Concatenation's first edition back in our print days. Graham and Jonathan attended. Again, we hope to have a standalone con report of the 30th anniversary reunion shortly. Meanwhile there is a brief summary coverage with pics on Jonathan's personal site here.
And that's it for this season. We hope that you find something to tickle your fancy below. (As Ken Dodd says, everyone deserves to have their fancy tickled from time to time.)
Elsewhere this issue…
Aside from this seasonal news page, elsewhere this issue (vol. 27 (5) Autumn 2017) we have stand-alone items on:-
My Top Ten Scientists – Paul McAuley
Understanding Polish conventions – Marcin 'Alqua' Klak
The 2017 British Eastercon – Arthur Chappell
The 2017 British Eastercon – Peter Tyers
Lexicon – New Zealand's 2017 national convention – Lee Murray, Dan Rabarts and Darian Smith
The 2017 Eurocon (Dortmund Germany) – Jim Walker
Plus over forty (yes, over 40!) SF/F/H standalone book reviews and an additional half-dozen non-fiction &amp science reviews. Hopefully something here for every science type who is into SF in this our 30th year.
Autumn 2017
Key SF News & SF Awards
This season's major award news includes:-
The 2017 Hugo Awards were announced at this year's Worldcon. This year saw 2,464 submitting nominations (though not everyone nominated for all categories) and 3,319 voting on the resulting shortlist (again not everyone voted for all categories) Because not all the 2,464 nominating did not nominate in all categories (and this year seemed to be more picky as to which category they'd nominate) we have lowered our definition of 'principal category' to those that had over a thousand nominating in that category (down from two thousand last year). Also the 2,464 submitting nominations was down on last year's number (4,032), the 3,319 voting on the shortlist was marginally up on last year's (3,130) and was this year the third highest ever. What this actually means is that the short list was derived by 39% fewer people than last year, but those voting on (filtering) this shortlist was up a tad (6%).
The principal Hugo category wins (those categories with over one thousand nominating) were:-
Best Novel: The Obelisk Gate by N. K. Jemisin
Best Novella: Every Heart a Doorway by Seanan McGuire
Best Short Story: 'Seasons of Glass and Iron' by Amal El-Mohtar
Best Related Work: Words Are My Matter: Writings About Life and Books, 2000-2016 by Ursula K. Le Guin
Best Dramatic Presentation – Long Form: Arrival (Trailer here.) which back in January (2017) we cited as one of the best SF/F/H films of 2016.
Best Dramatic Presentation – Short Form: The Expanse: 'Leviathan Wakes'.
Best Series (books): The Vorkosigan Saga by Lois McMaster Bujold
Not a Hugo (but administered by them) Ada Palmer won the John W. Campbell Award for Best New Writer (not to be confused with the John Campbell Memorial Award which is a separate juried award). Ada's novel is Too Like the Lightning published by Head of Zeus (Tor in the US). Ada will be in Britain in November. Set in the year 2454, it was also shortlisted for the Best Novel Hugo.
Other category (win information) (those categories with less than 1,000 nominating the works) can be found at thehugoawards.org.
The Horror Writers' Association Bram Stoker Awards were announced at the World Horror Convention that was held this year on Britain's Queen Mary dock-locked at Long Beach, California, US. They are named in honour of the author of the seminal horror novel Dracula. The principal category wins were:-
Novel: The Fisherman by John Langan
Debut Novel: Haven by Tom Deady
Graphic Novel: Kolchak the Night Stalker: The Forgotten Lore of Edgar Allan Poe by James Chambers
Screenplay: The Witch
Full details of all the category wins can be found at www.horror.org. Last year's principal category winners here.
Denmark's Niels Klim Awards were presented at Dancon. The award is presented annually after nomination and voting among Danish science fiction readers. This was the sixth time the prize were presented. Its four categories together cover shorter science fiction texts (less than 40,000 words) published in Danish for the first time the previous year. The winners were:-
'Hvem er bange for Wolf 359?' [Who's Afraid of Wolf 359'] by Ken MacLeod
Novella:-No award
Novelette: 'Slidte dukker' ['Worn puppets'] by Majbrit Høyrup
Short story: 'Mærk fremtiden' ['Feel the Future'] by Richard Ipsen
Further details of the award can be found at http://ommadawn.dk/nielsklim/.
The 2017 Locus Awards shortlist and winners have been announced. The Locus Award is run by the US magazine Locus that focuses on SF in its written form. It is voted upon by its readers and SF site's regulars. In May the short lists for its numerous categories covering novella, short stories etc, and which usefully divides speculative fiction into SF and fantasy, were announced. There is not the space to cover all these in detail (you can visit the Locus website for that), and as our focus is more firmly SF (as opposed to fantasy) we cite the short list for the 'Best Novel' category below in author alphabetical order:-
Company Town by Madeline Ashby. New Arcadia is a city-sized oil rig off the coast of the Canadian Maritimes, now owned by one very wealthy, powerful, byzantine family: Lynch Ltd. Hwa is of the few people in her community (which constitutes the whole rig) to forgo bio-engineered enhancements. As such, she's the last truly organic person left on the rig--making her doubly an outsider, as well as a neglected daughter and bodyguard extraordinaire.
The Medusa Chronicles by Stephen Baxter & Alastair Reynolds. A novel sequel of the Arthur C. Clarke short story. Click on the title link for a review.
Take Back the Sky by Greg Bear. The final in a military SF trilogy that examines some trope treatments (especially alien engagement) of some of his previous novels. Click on the title link for a review.
Visitor by C. J. Cherryh. The seventeenth novel in Cherryh's 'Foreigner' space opera series, of alien civilization relationships and their consequences. The human and atevi inhabitants of Alpha Station, orbiting the world of the atevi, have picked up a signal from an alien kyo ship telling them that the ship is inbound toward Alpha. Five thousand of the inhabitants of Alpha are human refugees from the now derelict Reunion Station… Not yet published outside of the US.
Babylon's Ashes by James S. A. Corey. Military space opera part of the 'Expanse' sequence which in turn inspired the television series. Click on the title link for a review.
Death's End by Cixin Liu. The final in the alien takeover bid trilogy that began with The Three-Body Problem and The Dark Forest.
After Atlas by Emma Newman. Govcorp detective Carlos Moreno was only a baby when Atlas left Earth to seek truth among the stars. But in that moment, the course of Carlos's entire life changed. Atlas is what took his mother away; what made his father lose hope; what led Alejandro Casales, leader of the religious cult known as the Circle, to his door. And now, on the eve of the fortieth anniversary of Atlas's departure, it has got something to do why Casales was found dead in his hotel room - and why Carlos is the man in charge of the investigation... Not yet published outside of the US but it was one of the bit-of-fun SF² Concatenation New Year poll as to the best SF of 2016.
Central Station by Lavie Tidhar. From the author of A Man Lies dreaming and The Violent Century. A worldwide diaspora has left a quarter of a million people at the foot of a space station. Cultures collide in real life and virtual reality. Life is cheap, and data is cheaper. But at Central Station, humans and machines continue to adapt, thrive, and even evolve.
The Underground Railroad by Colson Whitehead. A Record Narrating the Hardships, Hair-breadth Escapes and Death Struggles of the Slaves in their efforts of Freedom William Still. Like millions of my race, my mother and father were born slaves, but were not contented to live and die so. My father purchased himself in early manhood by hard toil. Mother saw no way for herself and children to escape the horrors of bondage but by flight. Bravely, with her four little ones, with firm faith in God and an ardent desire to be free, she forsook the prison-house, and succeeded, through the aid of my father, to reach a free State. Here life had to be begun anew…
Last Year by Robert Charles Wilson. It is the near future, and the technology exists to open doorways into the past but not our past, not exactly. Each 'past' is effectively an alternate world, identical to ours but only up to the date on which we access it. And a given 'past' can only be reached once. After a passageway is open, it's the only road to that particular past; once closed, it cannot be reopened. A passageway has been opened to a version of late 19th century Ohio. It has been in operation for most of a decade, but it is no secret, on either side of time. A small city has grown up around it to entertain visitors from our time, and many locals earn a good living catering to them. But like all such operations, it has a shelf life; as the 'natives' become more sophisticated, their version of the 'past' grows less attractive as a destination… The Canadian author Robert Charles Wilson has previously written a number of remarkable novels including Bios, the Hugo Award-winning Spin (which also featured in our bit-of-fun Best SF of 2005 poll) and Blind Lake
And the winner was Death's End by Cixin Liu .
For details of other principal category wins see the item immediately below. For details of all the many categories (always worth a look) check out the Locus on-line website www.locusmag.com/.
The Locus Award winners have been announced, further to the above principal category shortlist news. The Locus Awards are determined by a survey of readers in an open online poll. The principal category wins were:-
Best SF Novel: Death's End by Cixin Liu (Head of Zeus)
Best Horror: The Fireman by Joe Hill (Gollancz)
Best Fantasy: All the Birds in the Sky by Charlie Jane Anders (Titan)
'Young Adult': Revenger by Alastair Reynolds (Gollancz)
Best Collection: The Paper Menagerie and Other Stories by Ken Liu (Head of Zeus)
For details of all the many categories (always worth a look) check out the Locus on-line website www.locusmag.com/.
The 2017 Nebula Awards (for 2016 works) have been announced at the SFWA's (Science Fiction and Fantasy Writers of America) 52nd Annual Nebula Awards weekend in Pittsburgh Marriott City Center in Pennsylvania, USA. The principal category wins, as voted by SF Writers of America, were:-
Novel: All the Birds in the Skyby Charlie Jane Anders
Novella: Every Heart a Doorway by Seanan McGuire
Novelette: 'The Long Fall Up' by William Ledbetter
Also presented was the Ray Bradbury Award for Outstanding Dramatic Presentation the winner was Arrival (which back in January (2017) we cited as one of the best SF/F/H films of 2016)
Details of all the category wins can be found at www.sfwa.org. Last year's principal win Nebulas here.
New Zealand's Julius Vogel Awards for 2016 were announced at the 2017 NZ national convention 'LexiCon'. The category wins were:-
Best Novel: Into the Mist by Lee Murray
Best Youth Novel: Light in My Dark by Jean Gilbert & William Dresden
Best Novella / Novellete: The Convergence of Fairy Tales by Octavia Cade
Best Short Story: 'Splintr' by A. J. Fitzwater
Best Collected Work: At the Edge edited by Dan Rabarts & Lee Murray
Best Artwork: At the Edge cover by Emma Weakley
Best Professional Production/Publication: That Kind of Planet by Emma Weakley
Best Dramatic Presentation: This Giant Papier Mache Boulder is Actually Really Heavy
New Talent: Jean Gilbert
Best Fanzine: Summer Star Trek: Mirror, Mirror
Best Fan Writing: 'Food and Horror' column by Octavia Cade
Best Fan Artist: Keith Smith for contributions in Novazine
Best New Talent: Eileen Mueller
Services to Science Fiction, Fantasy and Horror: Lee Murray
Services to Fandom: Lynelle Howell
The Julius Vogel Award is given to citizens or permanent residents of New Zealand and is voted on by members of the New Zealand National Convention (including this year overseas attendees). The awards are administered by SFFANZ (the Science Fiction and Fantasy Association of New Zealand). Notes: Lee Murray also won the 2016 and the 2015 Vogel for 'Best Short Story'. This is the third year in a row that Keith Smith has won a Vogel for 'Best Fan Artwork'. Dan Rabarts & Lee Murray won the Best Collected Work Vogel in 2014. +++ Last year's Vogels are here.
The 2017 Campbell Memorial Award has been announced for the Best SF novel of 2016. (The Memorial Award is not to be confused with the Campbell Award – see Hugos earlier.) The winner of the 2017 Campbell Memorial Award was Central Station by Lavie Tidhar from a shortlist consisting of:-
The Medusa Chronicles by Stephen Baxter and Alastair Reynolds
Zero K by Don DeLillo
The Dream-Quest of Vellitt Boe by Kij Johnson
Into Everywhere by Paul J. McAuley
Everfair by Nisi Shawl
Occupy Me by Tricia Sullivan
Rosewater by Tade Thompson
Central Station by Lavie Tidhar
The Underground Railroad by Colson Whitehead
The Arrival of Missives by Aliya Whiteley
Alien Morning by Rick Wilber
Underground Airlines by Ben Winters
Azanian Bridges by John Nicholas Wood
The 2017 Baileys Women's Prize for Fiction has been won by Naomi Alderman for her science-fantasy novel The Power. The Power explores a future in which women have the ability to give electric shocks at will - often with deadly results - and men live in fear. The Baileys Women's Prize is usually won by mundane novels (not exotic speculative fiction) and so this news is something of note. A pilot for a possible TV show based on the novel is in the works. +++ Naomi Alderman has also expressed an interest in writing a Doctor Who TV script and already has one novelization under her belt.
Poland's Janusz A. Zajdel Awards short-list has been announced. The short list for novels is:-
Inwit [Invitation] by Michal Cholewa
Sila Nizsza [Act of God] by Marta Kisiel
Idz i Czekaj Mrozów [Go and Wait for the Frost] by Marta Krajewska
Czterdziesci i cztery [Forty and Four] by Krzysztof Piskorski
Puste Niebo [Empty Sky] by Radek Rak
The short-list for short stories was also released. +++ Last year's Zajdel Award winners here
The German SF Awards have been presented at this year's Eurocon. The German Science Fiction Award (DSFP), awarded by Science Fiction Club of Germany (SFCD):-
Best Novel: Prinzipat: Die Welten der Skiir Band 1 [Principate: Volume 1, The Worlds of the Skiirs] by Dirk van den Boom
Best Short Story: Das Netz der Geächteten (Network of Outlaws] by Michael K. Iwoleit
Last year's awards here.
The Kurd-Laßwitz-Award wins have been announced. They will shortly be presented at Pentacon in Dresden:-
Best Novel: 'Omn'i by Andreas Brandhorst
Best story: 'Suicide Rooms' by Gabriele Behrend
Best Foreign Work : Die Drei Sonnen [The Three Suns] of Three Body Trilogy, Volume 1 by Cixin Liu
Best translation: Martina Hasse for Die drei SonnenBest iIllustration Greg Ruth for the cover of Lagune by Nnedi Okorafor
Special Award for the committee of last year's SFCD-Con (Germany's natcon), MedikonOne, in Oldenburg
Special Award for the writer Herbert W. Franke for his lifetime achievements.
The 2017 Arthur C. Clarke (Book) Award has been announced. The winner was The Underground Railroad by Colson Whitehead. The plot concerns Cora, she is a slave on a cotton plantation in Georgia. All the slaves lead a hellish existence, but Cora has it worse than most; she is an outcast even among her fellow Africans and she is approaching womanhood, where it is clear even greater pain awaits. When Caesar, a slave recently arrived from Virginia, tells her about the Underground Railroad, they take the perilous decision to escape to the North. Here, the Underground Railroad has assumed a physical form: a dilapidated box car pulled along subterranean tracks by a steam locomotive, picking up fugitives wherever it can. Cora and Caesar's first stop is South Carolina, in a city that initially seems like a haven. But its placid surface masks an infernal scheme designed for its unknowing black inhabitants. And even worse: Ridgeway, the relentless slave catcher sent to find Cora, is close on their heels. Forced to flee again, Cora embarks on a harrowing flight, state by state, seeking true freedom. At each stop on her journey, Cora encounters a different world…
The novel also recently picked up the 2017 Pulitzer Prize for Fiction.
World Fantasy Award shortlist nominations for 2017 have been announced. The winner will be announced at this year's World Fantasy Con in the US in November. The short list consists of:-
Borderline by Mishell Baker
Roadsouls by Betsy James
The Obelisk Gate by N. K. Jemisin
The Sudden Appearance of Hope by Claire North
Lovecraft Country by Matt Ruff
Terry Pratchett's unfinished work has been steam-rollered. One thing Terry did not want was for his unfinished work to be published after his death. And so it was arranged for his personal computer's hard-drive to be run over by a vintage John Fowler & Co steamroller named Lord Jericho. This crushing by steamroller was something that Terry had specified. The deed, arranged by Terry's carer Rob Wilkins, took place at this year's Great Dorset Steam Fayre. The mangled hard drive will be on display at the Salisbury museum as part of an exhibition about the author and his work. +++ Our old regulars might recall that we have archived an article from 1994 and our print fanzine days of an article by Terry.
Fear magazine closes. John Gilbert of the editorial side of the magazine has complained that its costs have not been covered by the publisher.
New Harry Potter art goods are now available. The Pottermore Art Collection has been launched to provide a selection of original posters and mounted prints, all taking inspiration from the original Harry Potter stories written by J. K. Rowling. These are available to purchase exclusively from the Pottermore Shop. Currently only available in Britain, Pottermore plans to make the products available in other territories in the future. See shop.pottermore.com.
Judge Death returns! Judge Dredd's substantive cult following is exemplified by the numerous ways he can be currently read: in the weekly 2000AD, the monthly Megazine, the independent graphic novels, in order in the 'Complete Case Files', or the selected thematic graphic compilations in the 'Mega-Collection'. Judge Death – the paranormal being from another dimension – and his friends Mortis, Fear and Fire, have been one of Dredd's most popular foes (popular by Dredd readers that is, and not Dredd). We last saw Death and fellow Dark Judges (Fire, Fear and Mortis) cast adrift in space at the end of the spectacularly drawn Dark Justice which appeared in 2000AD in 2014 (that was compiled into graphic collection in 2015). And so it has been three years since we have seen Death et al. And now he is back in the monthly Judge Dredd Megazine in a story called Dominion. Suffice to say a spaceship en route to a colony planet, has an unfortunate encounter… The artwork (by Nick Percival) in the new story is not up to the never-beaten standard of Dark Justice but it sure comes close! The story is by John Wagner, Dredd's co-creator and Death's creator. Expect the graphic novel compilation in 2018/9. Keep an eye out for it. +++ See also below in our forthcoming SF section Tainted: The Fall of Deadworld graphic novel due out shortly.
The Orion Blog Fest has been held for SF book reviewer bloggers, vloggers and webmasters. And before we go any further, in case you did not know it, Orion is not just an imprint but also a publishing house that owns the Gollancz SF Masterworks imprint and SF Gateway e-book platform. The BlogFest was a single evening affair starting a couple of hours after the working day ended. It featured an author panel with Joanne (new paperback Runemarks) Harris, Ed (new novel Blackwing) McDonald and Dan (new novel Smoke) Vyleta, plus later there was an interview with Kristen Ciccarelli. It was a great evening with some additional interesting networking.
New and forthcoming books highlighted among others included:-
The paperback edition of Runemarks by Joanne Harris. This novel concerns Maddy Smith who was born with a rusty-coloured runemark on her hand - a symbol of the old gods and definitely cause for suspicion. For magic is dangerous. Or so everyone thinks. But Maddy enjoys working magic. Even if it is just to control some pesky goblins. And every time her friend, One-Eye - a good-for-nowt Outlander - comes by, he teaches her more and more about the gods and the runes. During the Blog Fest Joanne spoke eloquently on the role of fantasy as a tool for exploring real world issues and in this case of identity and perception.
Smoke by Dan Vyleta. Imagine a world in which every bad thought you had was made visible. Where anger, hatred and envy appeared as a thick, infectious smoke pouring from your body, leaving soot on your skin. A society controlled by an elite who have learned to master their darkest desires.
Blackwing: The Raven's Mark Book One by Ed McDonald. The Republic faces annihilation, despite the vigilance of Galharrow's Blackwings. When a raven tattoo rips itself from his arm to deliver a desperate message, Galharrow and a mysterious noblewoman must investigate a long dead sorcerer's legacy. But there is a conspiracy within the citadel: traitors, flesh-eaters and the ghosts of the wastelands seek to destroy them, but if they cannot solve the ancient wizard's paradox, the Deep Kings will walk the Earth again, and all will be lost. The war with the Eastern Empire ended in stalemate some eighty years ago, thanks to Nall's 'Engine', a wizard-crafted weapon so powerful even the Deep Kings feared it. The strike of the Engine created the Misery - a wasteland full of ghosts and corrupted magic that now forms a No Mans Land along the frontier… At the Blog Fest Ed McDonald described his novel as being set in a non-nuclear wasteland with a bouty hunter cum spy catcher as the protagonist.
The Switch by Justina Robson. A perfect society must be maintained. The defective must be eradicated. For orphans like Nico and Twostar, this means a life that's brutal, regulated and short…
Crosstalk by Connie Willis. Briddey is a high-powered exec in the mobile phone industry, overseeing new products from concept ('anything to beat the new apple phone') to delivery. And she works with her wonderful partner, Trent. They've been together for six magical weeks, in a whirlwind of flowers, dinners, laughter and now comes the icing on the cake: not a weekend away or a proposal but something even better. An EDD. A procedure which will let them sense each other's feelings. Trent doesn't just want to tell her how much he loves her - he wants her to feel it. Everything is perfect. The trouble is…
Austral by Paul McAuley. The great geoengineering projects have failed. The world is still warming, sea levels are still rising, and the Antarctic Peninsula is home to Earth's newest nation, with life quickened by ecopoets spreading across valleys and fjords exposed by the retreat of the ice. Austral Morales Ferrado, a child of the last generation of ecopoets, is a husky: an edited person adapted to the unforgiving climate of the far south, feared and despised by most of its population…. +++ See also in the 'Science and SF Interface section below Austral SF novel's pre-publication distribution is coincident with a new research paper that directly relates to the novel's Antarctic setting; something Jonathan has covered in a little more detail and with maps on his own satellite site
Revenger by Alastair Reynolds. The paperback edition is being released. It is swashbuckling pirates in space as the galaxy has seen great empires rise and fall. Planets have shattered and been remade. Amongst the ruins of alien civilisations, building our own from the rubble, humanity still thrives. And there are vast fortunes to be made, if you know where to find them… Click on the title link for a standalone review.
Finally, in October there will be Cara Delevivgne's debut novel Mirror Mirror billed as a twisty, coming-of-age story, exploring identity, friendship and betrayal. Then in November there will be Strange Weather from Joe Hill which is a collection of four SF/F/H novellas all related to weather.
As you may have gathered, the Orion BlogFest made for a busy evening.
A would-be murderer was arrested at this year's Phoenix ComicCon. 31 year-old Matthew Sterling turned up at the Phoenix ComicCon (USA) purportedly dressed as the Marvel Comics' Punisher with the aim of killing 'bad' cops as well as 'Power Rangers' star Jason David Frank. He was equipped to do this with three loaded handguns and a shotgun. Someone reading Sterling's Facebook page alerted the local police who then turned up at the convention and, following an altercation, arrested him. He was charged with attempted murder, three counts of aggravated assault with a deadly weapon, wearing body armour during undertaking a crime, resisting arrest and carrying a weapon in a prohibited place. +++ The annual Phoenix ComicCon began in 2002. The 2016 iteration attracted over 106,000 people over 4 days.
MCM London ComicCon 2017 saw an attendance of 130,212. It bills itself as Europe's leading comic con and the third largest event of its kind in the world. Like other ComicCons its focus is broad-based sci-fi with TV and film actors. Popular at the event were Doctor Who companion Catherine Tate, K. J. Apa of Riverdale and Austin Powers Mini-Me Verne Troyer. But there was some serious SF and fantasy in the mix including screenwriter, novelist and comics writer M. R. Carey (The Girl With All The Gifts), Ed McDonald (Blackwing), Nicholas Eames (Kings of The Wyld), R. J. Barker (Age of Assassins), Justina Robson (Keeping It Real) and Sam Maggs (Wonder Women). Contrary to popular belief and headlines circling the globe, Lou Ferrigno (The original Incredible Hulk) and Sam J. Jones (Flash Gordon) did not butt heads at the show. As entertaining as it would have been to have seen a superhero battle, it sadly didn't happen. However, it's certainly given the organisers ideas for the next show… The ComicCon will return to ExCeL London on 27th – 29th October (2017).
The Harry Potter: A History of Magic exhibition to be held at the British Library. It opens 20th October (2017) at the British Library, between Euston and St Pancras in London. It features some of J. K. Rowling's original drafts (never before publicly seen). Accompanying the exhibition will be two books: Harry Potter: A history of magic (£30 hardback) and Harry Potter: A journey through a history of magic (£12.99 paperback). The exhibition captures the traditions of folklore and magic.
Zarjaz – Art Tribute to 40 Years of 2000AD runs through September (2017) in Leeds, Britain. It is being held at The Gallery, in Munro House, Duke St, Leeds. It runs all month but there is a special event the evening of Friday 22nd September. The event is being run by Vice-Press in association with Thought Bubble and the support of 2000AD.
Famous Monsters Halloween Bash is to be held. Famous Monsters has been the leading authority on all things horror, sci-fi, and fantasy related for 59 years. Established in 1958 by Forrest J. Ackerman, they now aim to take decades of fandom celebration and bring it to the Famous Monsters Halloween Bash in San Jose, California, USA. The Famous Monsters Halloween Bash is a celebratory event to be held at the San Jose Convention Center, 27th-29th October, 2017. Among the announced guests are stars from Hellraiser (Doug Bradley, aka Pinhead), Gremlins (Zach Galligan), and Re-Animator (Jeffrey Combs), as well as Jeff Daniel Phillips of HBO's Westworld. Plus the original Scream Queen Adrienne Barbeau (Swamp Thing) will be there. Details www.famousmonstershalloween.com.
The 2017 Eurocon has been held. This year's event was in Dortmund, Germany. Those with long memories might recall that Dortmund was also the venue of the 1999 Eurocon. The con had 367 members physically attend, a low number but one suited to the venue and also planned for given that the Helsinki Worldcon was to take place just a couple of months later. The convention also saw the German SF Awards presented. Elsewhere Jim Walker has a standalone report.
The French 2018 Eurocon announces first accommodation and new website look. The first accommodation is a low-cost option for a university halls of residence at a very reasonable €28 (£25) a night. Details at eurocon2018.yolasite.com. +++ Previous 2018 Eurocon news here.
The 2019 Eurocon has been confirmed as to be held in Belfast, N. Ireland, UK. The decision was made at this year's 2017 Eurocon in Dortmund's European SF Society business meeting. The convention will be called Titancon 2017. (Titancon is a Belfast-based convention which has been held in the city annually since 2011.) The Titancon team is in final negotiations with the newly completed Waterfront Convention Centre and the adjacent Hilton Hotel to host the convention. These venues are located in the centre of Belfast with spectacular views over the River Lagan. Local fans will be able to interact with a wide range of authors, artists and other genre personalities, while visitors from the mainland UK, Europe, the US and further afield will be able to enjoy Belfast's culture and share the talents of local writers, artists and crafts people. Full Adult Attending memberships to Titancon 2019 are currently available through the convention website at www.titancon.com/2019/ for £50. Young Adult memberships (ages 16-25) are available for £35 and Child memberships (6-15) for £20. These rates are valid until 30th September, 2017. +++ Previous news Northern Ireland bid-marker placed for 2019 Eurocon at the 2016 Barcelona Eurocon.
The 2017 Finland Worldcon has been held in Helsinki, Finland. Importantly, the Hugo Awards have been announced. It was held over a largely sunny five days which enabled some tourism in addition to the event itself. The weather only deteriorated once with a somewhat spectacular, heavy rain downpour that lasted for a little over an hour. Those in the convention centre barely noticed, but a good few found themselves trapped in a bar or café (well, there are worse fates and it made for a little adventure). The most significant convention-running (conrunning) issue was the space booked at the venue. It was the London 2014 Worldcon problem (which we anticipated before that event) all over again: there simply was not enough space in the specialist programme stream rooms for people. With 7,119 warm bodies attending and, despite there being about 18 or so programme tracks, there was not enough space for folk in very many of the more popular items. There was some advice, quickly given, to turn up early to items you wanted to see, but that advice did nothing to get round the fundamental problem that, as happened with London in 2014, there simply was not the space! The convention organisers promptly cancelled the further sale of one-day tickets and from the third day secured some additional convention space from the venue, though overcrowding largely eased it remained an issue for some items. The problem was due to the insufficient programme space booked and part due to this being the second largest Worldcon to date in terms of warm bodies attending (behind Los Angeles in 1984 that saw 8,365 physically attend and London in 2014 with 6,946 warm bodies), and in terms of registrants (some of whom only want the publications and to Hugo vote so don't attend) Helsinki was third behind Spokane in 2015 with 11,742 and London in 2014 with 10,718 registrants. Apparently, for around some 2,000 Finns Helsinki was their first convention which is encouraging regarding the future longevity of Worldcons even if it can lead to congestion. Of course. The potential crowding problem was something we noted last year when we said that "it is nonetheless likely that the Helsinki Worldcon will be very well attended given the city's Eurocon let alone Finncon established track record", so the number problem arguably should have been anticipated.
Science programme. As we have done for a number of years now, being the Science & SF Concatenation, we list the science items on offer at the worldcon. We do this in part out of interest and in part as information for convention organisers as to the kind of topics that can be found in a science programme. This year there were science items on: Science Guest of Honour lecture – 'How to Tell the Ducks from the Rabbits' by mathematician Ian Stewart; How Much Do You Know About NASA?; Space Medicine; Turning up the Heat on Cli-Fi (climate change fiction); The Times That Shaped the Science; Really Weird Science: An Introduction to Quantum Computing; Portrayal of the Scientist and Science in SF; NASA and the Future; Under Pressure: Exploring Oceans Beyond Earth; Making a Better Human; How Science REALLY Happens; Up Shields! Dealing with Space Radiation; Clouds on the Horizon: Where Physics Might Be Changing; Obsolete Science Ideas; Destroying The Universe with Vacuum Bubbles; Using the Scientific Method; The Next 20 Years in Space; The Kjell & Jenny Show: A NASA Astronaut and his Public Affairs Officer; How I Would Destroy the World with Science; Artificial Intelligence in Real Life and SF; Still Waiting for My Food Pills: Science in the Kitchen; Beyond the Goldilocks Zone; Comics As a Tool for Scientific Outreach; Climate Change and Social Responsibility in Science Fiction; Exoplanetary Zoo and The Search for Earth 2.0; The Science of Food Intolerances, Autoimmune Reactions and Allergies; Superintelligence; Human reproduction in Science Fiction; Global Warming and the Gaia Concept. Is Global Consciousness Already Here, and Doesn't have a Clue?; Beyond the Big Bang: Exotic Cosmologies; Red Mars / Green Mars; The Science of Ted Chiang; How Will We Grow Food in the Future?; Laser Weapons, Reality or Myth; The Invisible Universe; Why is Mars so Hard?; James Webb Space Telescope: The Premiere Telescope for the Next Decade; The War on Science; The Long Term Future of the Universe & How to Avoid It; All in all a reasonable amount of science and slightly up on last year.
Film Programme. There was a good international selection of shorts and well as anime. There was a selection of film (something not often found at Worldcons) and film from various countries. Including just a limited number of features meant that the couple of horror films (more suited to a World Horror Convention) displaced programme space for mainstream SF. But there were also some interesting documentaries. No repeats. No evening screenings. Features included: Noctambulist (trailer here); The Sightings (trailer here); The Last Scout (trailer here); Enclosure (trailer here); Child Eater (trailer here); The Gatehouse (trailer here); Endless Loop; The End of the Lonely Island; and Chronesthesia (trailer here).
Other videoed programme items. This Worldcon was one of those (and hopefully more will in the future) who formally put some of the programme online in YouTube (as notably did last year's Eurocon (scroll down a little towards). This videoing was a very useful venture in outreach as well as historical archive terms. It also is one way of getting around the room-crowding problem. The YouTube channel to seek out is 'Worldcon 75'. Videoed items included: The Opening Ceremony; Fan Guest of Honour interview -- John-Henri Holmberg; and Masquerade. (The linked items in the above science programme section connect to YouTube videos.)
Elsewhere on the net there are a number of reports. A selection of just a few is below (N.B. which if you are checking out in the future you will find some un-linked due to net rot). Remember, when checking these out to see if there are subsequent posts as often bloggers post each day of the five-day convention. A selection of some of the blog and vid reports is below:-
Angus & Butler at MilfordSFWriters.wordpress.com
Aardarchaeology at scienceblogs.com
Thomas Arnfelt at thomasarnfelt.com
Jeffery Carver at starrigger.net
Hatboy at hatboy.blog
IndieSpecific at blogspot.co.uk
David A. Lamb at blogspot.co.uk
JereMyszal's Worldcon pictures at JereMyszal.com
Cheryl Morgan at cheryl-morgan.com
Eeva Nikunen at eevanikunen.com
EuCrew video at YouTube
Val Nolan at milfordsfwriters.wordpress.com
Goldeen Ogawa at goldeenogawa.com
Bianca Linger video at YouTube
Kevin Standlee at livejournal.com
Fran Smarya at fransmayra.fi
Susan Stepney at .blogspot.co.uk
Septa Unella at YouTube
Ultima at vsos.ethz.ch (link now dead January 2018)
World SF Society (WSFS) Business Meeting at the Helsinki Worldcon. WSFS is the body under whose auspices the annual SF Worldcon is held. This year's series of WSFS business meetings held at the Worldcon notably saw the creation a Hugo Awards Study Committee to consider a number of worthy proposals chief of which are the splitting of the 'Best Novel' categories into 'Best SF' (novel etc)and 'Best Fantasy'. Also to split the current two awards (long and short form) Best Dramatic Presentation Awards into effectively Best Film, Best TV series, Best TV episode and Best Short Film. This is a hugely welcome move. The Hugo Award, according to the WSFS constitution, is for 'Science Fiction achievement'. However some decades ago the constitution was amended to allow works of fantasy. This effectively redefined 'speculative fiction' (the umbrella term for SF, fantasy and fantastical [as opposed to purely violent] horror) as 'science fiction'. Since then there has been discussion in some quarters as to the wisdom of lumping fantasy with SF in the Hugos; discussion that occasionally peaked such as in 2001 when Harry Potter and the Goblet of Fire became the first out-and-out fantasy to win the Hugo Award for SF achievement. One of the things the committee will have to consider is how nominations will be calculated for borderline SF-fantasy works. It is likely that the work will be defined by the number nominating it the most for one of the categories, but there will then need to be a mechanism of transferring nomination votes. The other proposed ideas for further dividing the Dramatic Presentation Awards is something we at SF² Concatenation have mused among ourselves and which Jonathan addressed part of relating to the Short Form Dramatic Presentation in an article only a couple of years ago. Past changes to the Hugo have been a mixed bag (including recently with the inclusion of the ridiculous 'E Pluribus Hugo' (EPH) measure) but the current proposals outlined to split Best Novel into two – one for SF and one for fantasy – and to split the Dramatic presentations, seem eminently reasonable if not long overdue. Let us hope they look at splitting the 'Best Fanzine category into 'Fanzines' (that have a regular periodical posting s well as some content format with regular columns etc)and 'Blogs' (that have more frequent postings and less content structure) given the huge increase in nominations for blogs in the Fanzine Hugo category.
Meanwhile the EPH+ proposal (a revised EPH) was successfully put out of our misery: it failed to get ratified. The more sensible '3 Stage Voting' was also turned down; possibly because the Puppies failed this year to game the Hugo Award nomination short-list and so it was felt that this additional measure was no longer needed. Having said that '3 Stage Voting' would have been preferential to 'EPH' with which we are now stuck, at least for the time being, but alas the '3 Stage Voting' proposal came a couple of years after 'EPH'. Perhaps in a future year it is shown that EPH undermines the Worldcon Hugo voters nomination shortlist wishes, it will be shown the door. Finally, the new 'Best (book) Series' Hugo category was ratified and so that will now become a welcome new fixture of the Hugos.
As for the rest of the Helsinki Worldcon convention, we plan to have a full separate report for our next seasonal edition. However, other than the crowding, it otherwise all went off rather well. Minor hiccoughs almost too trivial to mention did happen, the most serious of which a programme item that gamed Alzheimer's was pulled due to complaints from overseas ultra-sensitive types. (The gaming culture is different in northern Europe compared to the US, but some have difficulty in adjusting to diverse culture and nation events. A real shame as that item would have spread awareness as to a serious problem affecting our ageing population.) But this last aside, the Finns can rest assured that at the end of the day it all largely worked, and not all Worldcons can say that, let alone a nation's first. +++ Last year's (2016) Worldcon news here and a previous 2015 Worldcon standalone report here.
The bid to run the 2019 Worldcon goes to Ireland and Dublin . The result of the site selection vote was announced at this year's Worldcon in Helsinki. The GoHs for the Dublin 2019 Worldcon will be: Bill and Mary Burns (expat Brits living in the US and longstanding fans and more recently e-zines manager), Diane Duane (SF author living in Ireland), Ginjer Buchanan (US editor), Ian McDonald (Hugo-winning N. Irish author), Jocelyn Bell Burnell (science GoH and, of course, the discoverer of pulsars), and Steve Jackson (games designer). (We at SF² Concatenation are particularly delighted at the honouring of Bill and Mary Burns as Bill has links with the MaD SF group (Manchester and District) whose members have been encouraging of our efforts such as they are and two of whom (Harry and Charles) provided the printing of our first edition back in 1987.) We understand that the committee are planning a convention roughly the size of the Glasgow Worldcon in 2005 of 4,200. The venue's programme space can hold 2,300 so the Dublin team are probably hoping that their convention will not see the numbers of Finland this year, or even London (2014). And other than that we've heard no further details from Dublin. So, so as to be helpful, we point you to our non-fiction books section below and Dublin: The Considered Guide. Don't say we don't look after you. :-) And, to get you the mood, if you want a fiction book to read from a current Irish author and an Irish publisher then here is a recommendation in our forthcoming books' section below.
The New Zealand 2020 Worldcon bid is now committed to a Wellington venue. This is good news as Wellington is more compact with much within walking distance of the city centre and even that which is not is a short bus journey away from the city centre: there is much to see as this article from 2010 explains. So if you are northern hemisphere based, and you want a holiday of a lifetime with a Worldcon thrown in, then now is the time to start saving. (No other Worldcon since 2010 and in the foreseeable future (to the next decade) can offer you a trip under a different night sky (you can pretend you are on another planet). Similarly no other offers you the thrill of watching water go down the plug hole the wrong way!
NZ 2020 have shared with us their bid details. The convention has two potential Wellington venue. The first is being currently built – the Michael Fowler Centre, Te Papa National Museum and associated Amora Hotel – and if it is ready for 2020 then the Worldcon will be one of the first international events. The second is the TSB Arena, and the nearby Intercontinental Hotel. The organising committee feels that these venues can support a convention of 1,500 to 2,000. Return air fares from Europe and east coast USA/Canada to Wellington the organising committee report as being close to or under £1,500 (€1,700 / US$2,000). Auckland – which is New Zealand's air hub – services a large number of major airlines: Aer Lingus, Emirates, Etihad, Air Canada, Lufthansa, Qantas, Virgin, United and Delta to name a few. Wellington has flights from Air New Zealand, Qantas, Virgin Australia, Singapore, Jetstar, and more. If you want a single airline (so that if there are connection changes you deal with only one airline) from Western Europe then Qantas is a good one. The most likely convention hotel is the Intercontinental, they have beautiful conference spaces to supplement the principal venue. There is also a wide range of accommodation options from 5 star to backpacker, standard hotel to apartment hotels. Wellington has large numbers of restaurants within easy walking distance (we can testify to that). There is a great range, but the majority are excellent. Basically, throw a stone… As it happens the proposed Worldcon will coincide with a major food event (Wellington on a Plate), so more tasting menus should be available, as well as other treats for foodies. Weather: Since we would expect to hold a New Zealand Worldcon in August, it is towards the end of winter. The New Zealand climate is mild, but it would still be chilly outdoors. There would be a reasonable chance of rain at that time of year. Weather is changeable and the general advice is to dress in layers. When the Worldcon was in London (2014), the weather was very similar the Wellington weather over those days. Finally, we at SF² Concatenation having been supportive of New Zealand shifting its 2010 national convention to the weekend before the 2010 Australian Worldcon is making encouraging noises to the NZ bid regarding pre- and post convention activities with the local SF communities, and it may be that some such ancillary events take place. We will keep you posted.&nbp; +++ And don't forget elsewhere on this site this edition is an item on this year's New Zealand's national convention.
France's Worldcon bid for 2023 continues. No new news, but Nice (as we knew) is the proposed host city and has France's second most international airport. The proposed venue's main auditorium (for the Hugos etc.) holds 2,500.
Britain's Worldcon bid for 2024 has three likely venue options. The bid are keeping their cards close to their chest but we understand that they are currently looking at three potential venues: Liverpool, London and Glasgow. There is perhaps a slight leaning to Glasgow (which, of course, previously hosted the 1995 Worldcon and 2005 Worldcon). +++ Last British Isles Worldcon review here.
And finally….
Australian police shoot Batman character's the Joker and Harley Quinn. The cos play characters were performing an erotic act at an Australian nightclub. Both were attending the Saints & Sinners Ball, described as a party "for Australian swingers and those who are just curious." The shooting took place after the nightclub was raided by around 40 police. One of the characters had a toy gun which the police say was pointed at them, but night club staff say that both were innocent. The man was shot in the stomach and taken to hospital with critical injuries. Subsequent reports say that he had stabilised.
Autumn 2017
Film News
The summer's SF/F/H films appearing within the top five of the weekly box office top ten charts (which of course also include other non-genre offerings which we ignore) were, in the British Isles (Great Britain, NI and Irish Republic), in order of their appearance:-
Wonder Woman (Trailer here)
Pirates of the Caribbean: Dead Men Tell No Lies (Trailer here)
Ghost in the Shell (Trailer here)
Guardians of the Galaxy Vol. 2 (Trailer here)
War for the Planet of the Apes (Trailer here)
Spider-man Homecoming (Trailer here).
The J. R. R. Tolkien estate have settled with Warner Brothers over multi-million merchandise. This really began way back in 2009 with the Tolkien family estate suing New Line (owned by Warner Brothers) for US$220 million (£136m). In 2010 New Line settled. This brings us up to date and in 2012 the Tolkien estate says that Warner Brothers have gone beyond the 2010 agreement that only covers things like 'tangible' goods such as figurines, stationery and clothing. What was not covered was using Tolkien's characters in digital form - including in online gambling games and casino slot machines - which the family claimed caused irreparable damage to the author's reputation and legacy. In 2012 they sued warmers for US$80m, (£50m). Warners has now settled with the estate for an undisclosed sum.
Guillermo del Toro's new film The Shape of Water is wowing the film fest circuit. Some say it is his best since the Hugo-winning film Pan's Labyrinth. The Shape of Water concerns a mute cleaner at a laboratory that is studying an aquatic creature and the relationship between them in the face of an abusive researcher. It is due for general release shortly. -- You can see the trailer here.
First class Star Wars postage stamps coming from Royal Mail. Eight Star Wars stamps will be available from 12th October (2017) in time for December's The Last Jedi. The stamps, of largely the re-boot characters but Chewy and the two droids are in the mix, were drawn by Malcolm Tween. Some of the stamps feature details, revealed only by UV light.
Star Wars: Episode IX writer steps down. Colin Trevorrow has left due to different 'visons' for the film to that of Lucasfilm. Star Wars: Episode IX (the film's working title) is currently slated for 2019 but even so Trevorrow's departure leaves a bit of a void. Colin Trevorrow's previous genre screen-writing includes 2015's Jurassic World (which he also directed) and writing the forthcoming Jurassic World: Fallen Kingdom slated for next year (2018). Lucasfilm is known for being arguably a tad heavy-handed with its lead creative staff.
Tolkien is to be the subject of a biographical film. Tolkien is being written by David Gleeson and Stephen Beresford, and will be directed by Dome Karukoski. It will explore the author's life up to WWI.
Neil Armstrong is to be he subject of a biographical film. First Man is being adapted from the biography First Man: A Life of Neil A. Armstrong by James R. Hansen. Damien Chazelle is to direct and Ryan Gosling to star playing
Short video clips (short films, other vids and trailers) that might tickle your fancy….
Film clip download tip!: Dark Moon is a video comic strip, that is to say it is a cartoon comic strip presented in a video format. Dark Moon is hard-ish SF space opera that concerns an exploration of a distant moon by a team using pioneering interstellar quantum teleportation. You can see the 12-minute first episode here on the Dark Moon comic YouTube channel.
Film clip download tip!: Echo/Back is an SF short film set in a future in which time travel of a few seconds is possible for a sizeable minority. In a world where time travel spreads as a virus, a fugitive uses 1-5 second time jumps to escape a police raid. You can see the 7-minute film here.
Film clip download tip!: Why living on the Starship Enterprise would actually be awful. Serving aboard the Federation's flagship in any era would have been an unending, living nightmare. Seriously, if you got a job on the Enterprise, you are not going to live long or prosper. Sorry to burst your bubble. -- You can find out why here.
Film clip download tip!: Again is a short SF film. Haunted by the memory of his girlfriend, Ben becomes obsessed with reliving their best moments together through the company, AGAIN™. But… You can see the 15-minute film here.
Film clip download tip!: Incoming is a short SF film. A SETI researcher intercepts a mysterious message... One word: many languages: 'ATTACK'! You can see the 7-minute film here.
Film clip download tip!: Athena is a short SF film. Two technicians are stranded on a foreign planet by an unexplained explosion and must act fast to stay alive when their rescue team turns up. You can see the 15-minute film here.
Film clip download tip!: Colossal is a giant-monster and robot action comedy that came out over the summer. You might have missed it but it could be worth checking out to see whether or not the Canadian-Spanish production is your cup of tea. -- You can see the trailer here.
Film clip download tip!: What Happened to Monday? Official Trailer. This Brit offering came out in a number of countries a couple of weeks before we posted this seasonal news page. In an overpopulated near-future world, where families are limited to one child, a set of identical septuplets must avoid being put to a long sleep by the government and dangerous infighting while investigating the disappearance of one of their own. -- You can see the trailer here.
Film clip download tip!: Kill Switch trailer. This came out in the US and Netherlands in June but has yet to have a broader release. It is based on Tim Smit's short film 'What's in the Box?', which currently holds 2.7 million views on YouTube. A pilot battles to save his family and the planet after an experiment for unlimited energy goes wrong. -- You can see the trailer here.
Film clip download tip!: Polaroid Official Trailer. This fantastical horror also came out in N. America just before posting this edition. It sort of draws on the old mythos of cameras capturing souls. -- You can see the trailer here.
Film clip download tip!: Blade Runner 2049 second trailer out and now expanded. The film is due to be released a few weeks after we posted this season's news page on 6th October (2017). Thirty years after the events of the first film, a new blade runner, LAPD Officer K (Ryan Gosling), unearths a long-buried secret that has the potential to plunge what's left of society into chaos. K's discovery leads him on a quest to find Rick Deckard (Harrison Ford), a former LAPD blade runner who has been missing for 30 years. -- You can see the 6-and-a-half minute trailer here.
Film clip download tip!: The Walking Dead season 8 trailer now out. The season begins 22nd October 2017. You can see the five minute trailer here.
Film clip download tip!: Jumanji: Welcome To The Jungle , is a forthcoming remake/re-boot due out for Christmas (2017). The game has changed, but the legend continues. You can see the trailer here.
Film clip download tip!: Bright, is a forthcoming Netflix film due out for Christmas (2017), has a trailer out. Set in a world much like our present-day but where mystical creatures live side by side with humans, a human cop is forced to work with an Orc to find a weapon for which almost everyone is prepared to kill. The film stars Will Smith, Joel Edgerton and Lucy Fry. You can see the three minute trailer here.
Film clip download tip!: The Batman, due out in 2018, has a teaser trailer. The film stars, and is directed by, Ben Affleck. Screen-story by David S. Goyer. -- You can see the 2-and-a-half minute trailer here.
Film clip download tip!: Iron Sky II is being made. Some of you might recall the highly irreverent, totally politically incorrect Iron Sky independent film offering in which in an alternate present the Nazí's survived WWII in a Moonbase. (That film's portrayal of the US President then seemed out of touch with reality, but less so now in the Trump present.) Well, the makers are producing a follow-up due out next year (February 2018). -- You can see the trailer here.
Film clip download tip!: Venom is being made. This is the 'Venum' from Marvel Comics. Venom is a symbiont, a sentient alien, with a gooey, almost liquid-like form. As with real-world symbionts, it requires a host, usually human, to bond with for its survival. After bonding, the Symbiont endows its enhanced powers upon the host. When the Venom Symbiont bonds with a human, that new dual-life form refers to itself as 'Venom'. 'venum' has appeared in the Marvel comics, first in The Amazing Spider-Man #300 (May 1988) and in the film Spider-Man 3 (2007). The forthcoming film is due to be released in October 2018. -- You can see the one-minute teaser here.
Film clip download tip!: Blast from the past. H. G. Wells meets Orson Welles! Rare extant interview. 7-minute audio here.
Want more? See last season's video clip recommendations here.
For a reminder of the top films in 2016/7 (and earlier years) then check out our top Science Fiction Films annual chart. This page is based on the weekly UK box office ratings over the past year up to Easter. You can use this page if you are stuck for ideas hiring a DVD for the weekend.
For a forward look as to film releases of the year see our film release diary.
Autumn 2017
Television News
The new Doctor Who is to be a double XX. By now this really is not news: even if you only get your SF news seasonally through this site, you would have been unlikely to miss out on the BBC's announcement that Jodie Whittaker is to be the new Doctor. Her first appearance on the show will be with the 2017 Christmas episode when we say goodbye to Capaldi with a look-alike cameoing Hartwell. BBC short introductory video teaser here.
Expect many Game of Thrones spin-offs. HBO has signed a deal with George R. R. Martin and four scriptwriters with a view to spin-off series to explore Martin's fantasy 'Ice and Fire' world.
Game of Thrones makers hacked: scripts stolen and then an episode is leaked! HBO ,who make Game of Thrones, confirmed that there has been a 'cyber incident' and a group of hackers has claimed that it has accessed 1.5 terabytes of HBO's data from the current seventh season. Expected spoilers online materialised and there was also a separate leak of an episode. Then Indian police arrested four suspected of leaking episode four of the seventh season (but not for the hack). All four had worked for Prime Focus, a Mumbai-based company that stores and processes the series for Indian streaming website Hotstar. Three were current and one a former employee of Prime Focus. +++ Game of Thrones is already the most pirated television show.
Forthcoming alternate timeline series from Game of Thrones producers sparks controversy! The proposed series Confederate from David Benioff and Dan Weiss has caused a social media storm in parts of the blogo- and twitter-sphere. Set in an alternate time-lined world where the South won the US Civil War, slavery is legal so leading to yet another Civil War. Apparently depicting slavery is too unpalatable and not politically correct for some in the US.
Philip K. Dick's Electric Dreams television series of SF shorts launches this month (September 2017). The show is an SF collection of ten standalone episodes based on, or inspired by, Phil Dick's shorts. The show comes from Channel 4 (one of Britain's five terrestrial broadcasters and free to view). In the US and Australia it will be available by subscription channels: in N. America by Amazon Video and in Australia by Stan. Meanwhile the on-ball folk at Gollancz brought out yesterday (14th Sept', the day before we post this seasonal page) the collection of the relevant Dick shorts entitled Philip K. Dick's Electric Dreams. The collection is a neat idea, though we think if you are turned onto Dick by this series (and you weren't by Blade Runner, Screamers, etc?) you should seek out some of his anthologies such as Human Is: A Philip K. Dick Reader or Total Recall where you'll find these stories and a lot, lot more. The actual stories themselves are: 'The Hanging Stanger', 'The Commuter', 'The Father-Thing', 'Exhibit Piece', 'Impossible Planet', 'Sales Pitch', 'Foster You're Dead', 'The Hood Maker', 'Holy Quarrel', 'If There Were No Benny Cemoli', 'Autofac' and 'Human Is'. The first trailer for the Channel 4 series is here and the second trailer here.
The Big Bang Theory has two new seasons confirmed. Back in 2014 we reported that the programme's makers were contemplating ending the show with series 10. Then last season we reported that they were planning to continue for at least two more seasons. In case you had not already heard, shortly after we posted last season's news it seasons 11 and 12 had been green lit. Season 11 premieres Monday, 25th September on CBS in the US and on Channel E4 (FreeView 29) in Great Britain. Will Amy accept Sheldon's proposal? No surprises there. ++ Meanwhile, the spin-off series Young Sheldon is to premiere at the same time. The advance clips seem great.
Star Trek: Discovery is causing ructions prior to its premiere. It is the new look Klingons causing the trouble. Already there had been a continuity problem between the classic Star Trek Klingon look and that of Star Trek: The Next Generation but this problem was addressed in a major Star Trek: Enterprise story arc. From the trailers for the new series, Star Trek: Discovery, it seems that the Klingons now have a yet another new look to the chagrin of some Trekies. And there's another gripe, the ship design for the new series is also rather angular. +++ The new series premiers 10 days after we post this seasonal news page on Monday 25th September. It will be broadcast on CBS All Access in the US and in Canada on Bell Media's Space channel and OTT service CraveTV, plus Netflix elsewhere. The 15 episodes will be split into two halves, after 6th November (2017) there will be a break until it returns in January 2018. Trailer here.
The new series Extinct is being co-produced by SF author Orson Scott Card. News came out just as we posted last season's edition that the Hugo Award-winning author of Ender's Game, Orson Scott Card, is co-producing the new series Extinct. It concerns a small colony of humans who have been revived by enigmatic aliens and that they are the sole survivors of humanity who is otherwise extinct. The 10-episode drama is set 400 years after the extinction event. The writer Aaron Johnston is a co-creator of the series. The series comes to BYUtv in the US, and will premiere shortly in October, we don't as yet know if or how it will be screened in Europe. Trailer here.
A true War of the Worlds TV mini-series is being made. To date the visual adaptations of H. G. Wells' novel have been Hollywood, set in the US present, versions. (OK, there is one straight-to-video version closer to the original.) Conversely, this version is being set, as with the novel, in Victorian England. Now, you may be saying: 'hang on, haven't we heard this before?' Well, yes. We reported this news back at the start of 2016. Mammoth is still to make it, but it looks like the Beeb Beeb Ceeb is to produce this three-part series. Good old Auntie.
A Judge Dredd TV series is to be made. Wot? Woah? How? Huh! Yes, your thrill-power circuits are not deceiving you, this zarjaz news is genuine. The show will be called Judge Dredd: Mega-City One. And there is more. Rebellion, yes, 'Rebellion'(!) is co-producing with IM Global. Now, for those of you who do not know your Strontium Dog from your Sinister Dexter, or your from your Ro-Buster from your Robo-Hunter, Rebellion is a small British computer games maker staffed by Squaxx dek Thargo (friends of Tharg a.k.a. 2000AD fans) who bought 2000AD from IPC the powerful ego-maniac Tharg's (2000AD editor) previous incarnation IPC (a giant magazine and comic company). Rebellion effectively, if not literally, saved 2000AD. So importantly with Rebellion on board we can hope that the likes of Alan Grant (Dredd script writer) and importantly John Wagner (Dredd co-creator) will have a direct line to IM Global and a firm influence on the series. And if per chance the series follows the Dredd story arc not only will it be mind-blowing but there is many season's worth of material from the comic to mine. If this news doesn't keep the old thrill-suckers a bay then goodness knows what will. This is truly scrotnig. +++ Last season 2000AD celebrated its 40th year.
AMC are now commissioning writers for its forthcoming NOS4A2series. It looks like after a year since the series was first seriously mooted, AMC are ploughing ahead. The series is, of course, based on the Joe Hll novel (2013).
David Tennant and Billie Piper reunite for Doctor Who audios. Reprising their roles of the tenth Doctor and companion Rose Tyler, the two are reuniting for three audio episodes: 'Infamy of the Zaross', 'Sword of the Chevalier' and 'Cold Vengeance'. (The latter also sees the return of the Ice Warriors.) The episodes will be released in November (2017).
Kermit the Frog is to get a new voice. After the death of Muppets creator Jim Henson in 1990, Steve Whitmire voiced the Muppet frog. Matt Vogel is now taking over. He has worked on Sesame Street as has Whitmire. Steve Whitmire himself was upset, 'devastated', to have lost the role. Disney has not given a reason for the change other than saying that it was 'unacceptable business conduct'. Whitmire clarified saying that it was because he had made public his disagreement with Disney's treatment of the Kermit character. One such instance was Kermit lying to his nephew, Robin, about his break-up with Miss Piggy and that the other reason he was fired was over a union issue. (Disney's record on unions is well known from the 1950s 'communist' purge onwards.)
The Munsters may be re-booted. The 1964-1966 US television comedy, and concerning a fantastical gothic family (think The Adams Family for slightly younger viewers), is being considered for re-booting by NBC. This is the second attempt at a re-boot following Mockingbird Lane in 2012 that only had a pilot aired as a Halloween special.
Jumper is to become a television series. Jumper was originally a novel by Steven Gould in 1992 before becoming a film in 2008 that took US$222 milllion. It is not known whether the series will be based on the original novel or the 2008 film prequel novel or the film.
NBC is reportedly playing silly, litigious buggeτs over paying for the rights to Amazing Stories. Steve Davidson owns the rights to the Amazing Stories trademark and apparently had been approached by NBC for an option to use as they want to resurrect a 1980s Spielberg show. But NBC, it appears, have not paid for the option the agreed yet now want to proceed to licence. Steve Davidson is considering suing for breach of contract. Details at http://amazingstoriesmag.com/nbc-amazing-stories.
Autumn 2017
Publishing & Book Trade News
Top children's books revealed.To mark the 80th anniversary of the Carnegie Medal and 60th of the Kate Greenaway Medal, a poll was commissioned to ascertain the most popular longstanding books (Books published over 20 years ago). The list reveals that fantasy, and illustrated fantasy are kids' most popular genres. The top books are:-
1) Charlie and the Chocolate Factory by Roald Dahl (1964)
2) The BFG by Roald Dahl (1982)
3) Matilda by Roald Dahl (1988)
4) A Bear Called Paddington by Michael Bond (1958)
5) The Very Hungry Caterpillar by Eric Carle (1969)
6) Harry Potter and the Philosopher's Stone by J. K. Rowling (1997)
7) The Lion, The Witch and the Wardrobe by C. S. Lewis (1950)
8) Charlotte's Web by E. B. White (1952)
9) The Cat in the Hat by Dr Seuss (1957)
10) The Hobbit by J. R. Tolkien (1937)
11) Dear Zoo by Rod Campbell (1982)
12) The Tiger Who Came to Tea by Judith Kerr (1968)
13) The Snowman by Raymond Briggs (1978)
14) The Borrowers by Mary Norton (1952)
15) Father Christmas by Raymond Briggs (1973)
SF television adaptations spur the top genre e-books of the summer. The British Isles top 20 e-book chart over the summer saw it headed by Margaret Atwood's The Handmaid's Tale for several weeks. This had been serialised by one of the major terrestrial UK channels over the season. Also in the top 20 for several weeks was Neil Gaiman's American Gods which had been shown on the subscription Amazon Prime. Had it been serialised on one of the major terrestrial channels it would no doubt have given The Handmaid's Tale more of a run for its money for the top slot.
SF and science feature in the USA's 2016 first half-year, top book sales chart. George Orwell's 1984 came in at 13 with 308,981 sales, which may be something of a surprise, but then maybe not considering the Trump Presidential election. Margaret Atwood's The Handmaid's Tale fared much better at 7th with 363,665 sales but less surprising given both the television series (that boosted e-book sales in Britain) as well as the Trump Presidential election. Hidden Figures by Margot Lee Sketterley came sixth no doubt helped by the film adaptation (that also was earlier this year a nomination that made it to the Hugo shortlist -- trailer here). Popular science even has an entry with Astrophysics for People in a Hurry at no.18. +++ The UK first half-year book chart has no SF/F/H or science featured.
The Samuel R. Delany journal campaign needs your support. Delany was a professor of Comparative Literature at the University of Massachusetts Amherst 1988-1999, of English at SUNY Buffalo 1999-2000, and of English and Creative Writing at Temple University in Philadelphia since 2001. But is, of course, well known in fandom for his SF novels, including 'The Fall of the Towers' trilogy and the related The Jewels of Aptor. His novel Babel-17 (1966) and The Einstein Intersection (1967) garnered him a Nebula Awards; both were also short-listed for Hugos. He is also noted for the million-plus-selling novel Dhalgren (1975). The novelette 'Time Considered as a Helix of Semi-Precious Stones' (1968) won both a Hugo and a Nebula.
Which brings us on the current Delany campaign.
It is an Indiegogo campaign to support the completion of Volume Two of his collected personal journals. Details here: https://igg.me/at/delanyjournalsv2/x/14545209.
Ebury has announced that they will publish Artemis, the new novel from the author of The Martian, Andy Weir. Ebury bought British Commonwealth rights for Artemis from Crown, and will publish Artemis simultaneously with the US on their Del Rey imprint on 14th November (2017). Film rights have been acquired by 20th Century Fox and New Regency, with Simon Kinberg and Aditya Sood, two of the producers of The Martian film adaptation, attached to produce for Genre Films. Artemis is a heist story set on the Moon. Life on Artemis, the first and only city on the moon, is tough if you're not a rich tourist or an eccentric billionaire. So smuggling in the occasional harmless bit of contraband barely counts, right? Not when you've got debts to pay and your job as a porter barely covers the rent…
A new J. R. R. Tolkien is out. Beren and Lúthien is edited by his son Christopher Tolkien (now 92) and is a Middle Earth story about the fate of lovers Beren and Lúthien, a mortal man and an immortal elf who together try to steal from the greatest of all evil beings, Melkor.&nsbp; Christopher Tolkien also shows how the narrative changed to become part of The Silmarillion.
Alastair Reynolds to return to 'Revelation Space'! The new novel is due out in January (2018) and sees a return to the part of Revelation Space previously explored in The Prefect (2007). Ten thousand city-state habitats orbit the planet Yellowstone, forming a near perfect democratic human paradise. But even utopia needs a police force. For the citizens of the Glitter Band that organization is Panoply, and the prefects are its operatives. Across the habitats and their hundred million citizens, people are dying suddenly and randomly, victims of a bizarre and unprecedented malfunction of their neural implants. And these 'melters' leave no clues behind as to the cause of their deaths... As panic rises in the populace, a charismatic figure is sowing insurrection, convincing a small but growing number of habitats to break away from the Glitter Band and form their own independent colonies.
Gollancz has announced that they have acquired a new novel in the 'Witcher' universe by Polish author Andrzej Sapkowski. The Witcher series of fantasy novels, which began with The Last Wish, is an international phenomenon, with individual books having appeared on the New York Times and Sunday Times bestseller lists. The most recent, The Lady of the Lake, was a USA Today bestseller. Sapkowski recently won the World Fantasy Award – Life Achievement for his career as a fantasy novelist. The new novel, Season of Storms, has never been published in English. It will be a prequel, in which readers will learn the origin story of protagonist Geralt. It is scheduled for publication in May 2018, in hardcover in the US (Orbit) and trade paperback in the UK (Gollancz). +++ Netflix recently announced that a TV adaptation of the Witcher series is in the works, produced by The Expanse executive producers Sean Daniel and Jason Brown as well as Platige Image's Jarek Sawko and Tomek Baginski, who is an Academy Award-nominated director and will direct at least one episode per season. 'The Witcher' series is also the inspiration for the popular video game series of the same name.
A new collection of Joe Hill short novels from Gollancz. Gollancz has announced the acquisition of UK & Commonwealth rights to Strange Weather, a collection of novellas from Joe Hill, author of Heart-Shaped Box, Horns, NOS4R2 and 20th Century Ghosts. Joe Hill said: "I'm a fan of the slim, heart-punch novel that can be read in a single sitting: On Chesil Beach, Sense of an Ending, Heart of Darkness and Jekyll and Hyde. I wrote two big novels over the last five years, but in between, I've been scribbling away at these shorter stories, pushing myself to do more with less. I came up with one about a camera that steals memories, and another about the sky opening up and raining nails; I had a castaway story to tell about a man stranded on a cloud, and a thing to write about America's endless cycle of mass shootings. I wrote 'em when I could (on planes, on trains, in hotel rooms), and in whatever medium was available (the computer, a notebook, placemats in diners) and I had fun doing it. For readers in the mood for something lean and mean, Strange Weather will, I hope be found satisfactory. A warning though: the forecast calls for treacherous, stormy days to come."
Two new SF novels from Adam Roberts are coming from Gollancz. The novels will be a duology: The Real-Town Murders and an untitled sequel. The first novel's set-up is this: Alma is a private detective in a near-future England, a country desperately trying to tempt people away from the delights of Shine, the immersive successor to the internet. But most people are happy to spend their lives plugged in, and the country is decaying… The books are described as fast-paced Hitchcockian thrillers and the first comes out from Gollancz in August. The next is due in 2018/9.
The Entire Works of David Gemmell are Coming to Audio for the First Time! Orion Audio and Hachette Audio have jointly acquired world audio rights for the full works of fantasy sword & sorcery master, David Gemmell. 33 titles, not previously available in audio, will now be moving into production including; 'Legend' and the 'Drenai' series, the 'Rigante' series; and the 'Troy' series - completed posthumously by Stella Gemmell. In order to ensure people with sight loss can enjoy Gemmell's works, Orion are collaborating with the Royal National Institute of Blind People (RNIB) to make the titles available via the charity's Talking Books service.
The Channel 4, and now Netflix, series Black Mirror to come in book form. Penguin Random House has acquired an original book series inspired by the popular SFnal hit series Black Mirror by Charlie Brooker. The three-volume series of original fiction novellas will be edited by creator Charlie Brooker, and each will be a collection of three all-new, all-original mid-length stories in the style of the show and written by other authors. Black Mirror is an addictive anthology series that uses science fiction tropes to make trenchant and unsettling commentary on the convergence between humanity and technology, and a promised future. Season one and two originally aired on Channel 4 between 2011 and 2014. In September 2015, the series tragically moved behind a pay-wall to Netflix who commissioned a third season and its worldwide release in October 2016 led to further international critical acclaim. The first of the book incarnations will be published in February 2018, with the second volume scheduled for autumn 2018 and the third in 2019. Charlie Brooker said: 'All-new Black Mirror stories from exciting authors - that's a joyous prospect. And they're appearing in a high-tech new format known as a "book". Apparently you just have to glance at some sort of 'ink code' printed on paper and images and sounds magically appear in your head, enacting the story. Sounds far-fetched to me, but we'll see.'
Amazon agrees with European Commission to drop potentially illegal, anti-competitive contracts with publishers. This follows the European Commission announcing an enquiry into Amazon's practices in 2015. As we said back then, "if it looks like Amazon is going to lose then you can bet that they will do a deal to reduce their financial risk" and this indeed is what seems to have happened. Amazon has sought to address the Commission's concerns by offering not to enforce, introduce or to change the terms of its agreements with publishers. However the arrangement will only last five years and only affect e-books (not print) so we still have a long way to go. Details here. +++ Other problems with Amazon include: Amazon bullying small publishers; Amazon big-publisher dust offs such as the Hachette dispute last year; and British book buyer backlash against Amazon last Christmas. (Best to support your local bookshop or, if you must, order online then order directly from the publisher and that will ensure both the publisher and the author get their fair share.)
Amazon tax wrong says UK Booksellers Association. Amazon's UK tax bill halved from 2015/6 to £7.4m for 2016/7 despite its UK tax-year's sales grew to £1.5 billion. The Booksellers Association says that the tax system weighs heavily against bricks and mortar retailers. Amazon says that its operating profit in the UK halved by over 50% in 2016/7 to £25.6 million. However, this possibly contrasts with what Amazon said in the US when it filed its accounts for tax purposes: it reportedly said that the UK saw large Amazon earnings of US$9.5 billion (£7.3 billion). The BA counters that things are weighted against bricks and mortar shops citing Bedford whose Waterstones' high street bookshop pays 17 times more in business rates than Amazon's Bedford operation. What's more, the British tax-payer in 2016/7 subsidised Amazon to the tune of £1.1 million in grants. (Bookseller 18th August 2017, p8.) +++ Previous related news: public concern over Amazon's tax arrangements among other things.
The 2016 Great Britain and N. Ireland publishing industry data has been released. Key points:-
Total sales of books and journals value up in 2016 over 2015 by 7% . Even though the figure is slightly less in real terms (roughly around 4%), is the largest growth in a decade since, in 2007, digital was first included. In 2016 sales of books and journals reached £4.8bn.
Digital sales were up 6% to £1.7 billion despite a continued drop from last year in e-book sales (down 3% in cash terms). Remember, digital sales include things like electronic magazine and journal sales, and not just e-books.
With regards to books, print was up 8% to £2,971m while e-books were down 3% to £538m. This suggests that the UK publisher market (including exports) may have reached a rough balance between e-books and print.
UK home physical and digital book sales were up 6% to £2.01bn. With physical book sales reaching £1.591 billion which is up 4.9% over 2015. 2016 saw the best UK physical book sales since 2010.
With regards to UK academic journals total sales were around £1.25bn with 87% (1.09bn) going as exports. Europe accounts for 35% of these exports but these have been in long-term decline (even before Brexit): 5 years ago Europe accounted for 39% of UK journal exports. Rising export sectors include E. Asia, South & Central America and N. America.
Export sales (including non-academic) from Britain rose by 6% to £2.6bn so equalling some 54% of total publishing revenues. More than a third of the £2.6bn in exports came from journals (mostly digital).
However fiction sales both print and e-book in the UK were down 7%: 16% since 2013 to £525m in 2016 if the data is to be believed (it is not as complete as it might be due to the plethora of medium sized and small presses) and in print alone down by a third since 2012's high.
Summary. UK publishing is doing well. UK academic publishing (with its hefty science component) is doing brilliantly. With regards to print vs. e-books, a balance seems to have been achieved with e-books and digital journals accounting for over 15% of the market by value (more in terms of units sold as digital sells more cheaply). Fiction is not doing so well. Linking this to previous news of the total number of authors selling in the UK (which includes non-UK authors) is booming and the number of top authors earning over £1m is declining then there are a huge number – the vast majority – of authors whose sales are an absolute pittance. (Of course a percentage of an individual's author's pittance multiplied a few hundred thousand times does make money for online e-book, as well as vanity press, publishers.)
++++ Last year's figures here
Publishers Pan Macmillan and the independent bookshop chain Waterstones take the big category 2017 British Book Awards. Pan Macmillan has been named Publisher of the Year for the second time in three years, after winning the title in 2015. Pan Macmillan are behind the SF imprint Tor: Pan Macmillan sales rose by 30% in 2016. Waterstones is a fine British book chain that returned to profitability last year. Meanwhile Head of Zeus won the 'Independent Publisher' category. Head of Zeus is the publisher behind The Guns of Empire , Firefall (Echopraxia), The World Raven, and The Three-Body Problem and its sequels. The Non-Fiction Book of the Year was Hello. Is this Planet Earth by Tim Peake. The Best Seller of the Year was Harry Potter and the Cursed Child by J. K. Rowling, John Tiffany and Jack Thorne. Finally, J. K. Rowling picked up the Booksellers Association Award for Outstanding Contribution to the Book trade saying: "Twenty years ago I would hardly have believed I'd have a book published, let alone an accolade as wonderful as this." +++ J. K. Rowling granted Order of the Companion of Honour in the Queen's Birthday Honours.
Titan, the SF/F/H publisher, changes its distribution arrangements. As from September (2017) all order processing, customer services and warehousing for titles will be handled by Macmillan Distribution.
Autumn 2017
Forthcoming SF Books
The Hitchhikers' Trilogy: A Trilogy in Five Parts by Douglas Adams, Pan, £10.99, pbk, ISBN 978-1-509-85279-6.
The classic BBC radio series' books brought together in one volume. The original radio series was shortlisted for a Hugo in 1979 (just missing out to the Superman film). See also item below.
The Hitchhiker's Guide to the Galaxy by Douglas Adams, Pan, £7.99, pbk, ISBN 978-1-509-86014-2.
Click on the title link for a standalone review. It has been just a year since Pan last released a new paperback edition of this book which just shows that it continues to be very popular.
The Power by Naomi Alderman, Viking, £8.99, pbk, ISBN 978-0-670-91996-3.
A Handmaid's Tale style tale set in a dystopic future in which teenage girls can inflict pain on whim. Margret Atwood apparently helped mentor the author with this story. The novel has just won The Baileys Prize… Coincidentally, the item after next below…
Infinity Engine by Neal Asher, Pan, £8.99, pbk, ISBN 978-0-320-52463-6.
Space opera set in Asher's popular Polity universe. This is the mass-market paperback release following the spring's hardback. On the cusp of a black hole, the future of the Polity hangs in the balance. Several forces are now pursuing the rogue AI Penny Royal, and the Brockle is the most dangerous of all. This criminal swarm-robot AI has escaped its confinement and is upgrading itself, becoming ever more powerful in anticipation of a deadly showdown. Events escalate aboard Factory Station Room 101, the war factory that birthed Penny Royal. Here, humans, alien Prador, and an assassin drone struggle to survive amidst insane AIs and technology gone wild. This is the final in the trilogy that began with Dark Intelligence and this follows on from War Factory.
The Handmaid's Tale by Margret Atwood, Vintage, £8.99, pbk, ISBN 978-0-099-74091-9.
Way back in 1987 this was the first winner of the Arthur C. Clarke (book) SF Award. Set in an environmentally degraded future America with high infertility, fertile rebels are force to bear the children of the elite of a totalitarian, Christian fundamentalist state… This release ties in with the conclusion of the television series just broadcast. The novel is a slim one and it will enable you to see the foundation on which the fairly faithful (albeit substantially expanded) television version was based.
The Massacre of Mankind by Stephen Baxter, Gollancz, £8.99, pbk, ISBN 978-1-473-20511-6.
The 'official' sequel to H. G. Wells' The War of the World. Click on the title link for Peter's stand-alone review.
Obelisk by Stephen Baxter, Gollancz, £9.99, pbk, ISBN 978-1-473-21276-3.
This is a collection of British author Stephen Baxter's, hard-ish and largely space operatic SF, short stories between 2008 and 2013. Click on the title link for a standalone review.
The Forge of God by Greg Bear, Gollancz, £9.99, pbk, ISBN 978-1-473-22266-3.
This is a reprint of Bear's noted 1987 novel. In now join's Gollancz's SF Masterwork series. Jupiter's moon Europa disappears, shortly after which aliens are found in the Australian desert, promising all kinds of co-operation with Humanity. However, these are renegade Von Neumann probes who are fighting an interstellar war with organic life forms… Though this novel is complete in itself, the tale is continued in Anvil of Stars (1992), when humans have joined a force attacking the race that originally released the probes.
America City by Chris Beckett, Corvus, £18.99, hrdbk, ISBN 978-1-786-49152-7. From the author of the Clarke (SF) Award winning novel Dark Eden comes a new story set in a future America devastated by climate change and in which tensions rise as the northern states close their borders to their fellow US Americans from the south. (Not so united now are we….) See also below…
Spring Tide by Chris Beckett, Corvus, £14.99, hrdbk, ISBN 978-1-786-49050-6.
Collection of shorts From stories about first love, to a man who discovers a labyrinth beneath his house, to an angel left alone at the end of the universe…
Skitter by Ezekiel Boone, Gollancz, £8.99, pbk, ISBN 978-1-473-215201-4.
The flesh-eating spiders continue their conquest of the world… Follows on from The Hatching. Click on the title link for Ian's standalone review.
Places in the Darkness by Chris Brookmyre, Orbit, £18.99, hrdbk, ISBN 978-0-356-50624-1.
A police procedural set in a very large orbital construction facility that is building an interstellar colony ship. Hundreds of miles above Earth, the space station Arca Estrella is a beacon of hope for humanity's expansion into the stars. But not everyone aboard shares such noble ideals. A disassembled corpse has been found dancing in the micro-gravity. In charge of the murder investigation is Nikki 'Fix' Finnegan, who is not thrilled to have Alice Blake, an uptight government goody-two-shoes, riding shotgun. As the bodies pile up, and the partners are forced to question their own memories, Nikki and Alice begin to realize that gang warfare may not be the only cause for the violence. All the while the eyes of the world are watching: multiple governments and corporations have a stake in catching humanity's first space-bound killer.
As Broadcast by Liam Brown, Legend Press, £8.99, pbk, ISBN 978-1-787-19993-4.
A man is offered a lead in a new online show. However if he accepts he must have a chip inserted in his head that will share his every thought online 24/7…
Sea of Rust by Robert Cargill, Gollancz, £14.99, trdpbk, ISBN 978-1-473-21278-7.
A post apocalyptic, western style adventure set in a world without humans since the robot uprising. It is now the robots' world…
Forbidden Suns by D. Nolan Clark, Orbit, £8.99, pbk, ISBN 978-0-56-50755-2.
This is the conclusion of 'The Silence' space opera trilogy that began with Forsaken Skies and Forgotten Worlds. It may now be possible to hit back at the aliens who, up till now, had been systematically eradication all sentient life they had encountered…
Childhood's End by Arthur C. Clarke, Pan, £7, pbk, ISBN 978-1-509-83843-1.
This is a welcome reprint of Clarke's 1953 novel, no doubt due to the 2015 mini-series. But make no mistake, Clarke would have hated the religious undertones of the TV mini-series. The novel concerns the appearance of advanced aliens who are mysterious and take quiet control of the Earth… The book follows a theme of aliens and Earth that he has explored in a number of his stories.
Babylon's Ashes by James S. A. Corey, Orbit, £8.99, pbk, ISBN 978-0-356-50429-2.
Space opera, mass-market paperback release of the spring's hardback. Marco Inaros is bombarding Earth with asteroids, ruining the ecology and the economy so that Earth can no longer supply the outer worlds with the exports needed out there for life-support. The Free Navy has turned to piracy on outbound ships, bound through the alien matter-transmitter ring on the edge of the Solar System to colonies in the other star systems with which it connects. But those hijacked cargoes are nothing like enough to beat the shortfall, and although Inaros talks a grand vision of the Asteroid Belt and the outer settlements being self-supporting, he's doing nothing to bring it about and mass starvation is looming… Click on the title link for a standalone review.
Shadow Born by David Dalglish, Orbit, £9.99, pbk, ISBN 978-0-356-50653-1.
This marks the conclusion of 'The Seraphim' trilogy.
Star Wars: Phasma by Delilah S. Dawson, Century, £20, hrdbk, ISBN 978-1-780-89821-6.
This is, apparently, the 'official' prequel to The Last Jedi.
Philip K. Dick's Electric Dreams by Philip K. Dick, Gollancz, £8.99, pbk, ISBN 978-1-473-22328-8.
The new collection of old Philip K. Dick stories to accompany the new season of television episodes inspired by the said stories. Though the stories have previously appeared in Dick collections of shorts, these each have their own introduction by the people who made the relevant television episodes. This in itself will make this collection of interest to Dick fans, while on the other hand the collection will be a useful introduction for new Dick readers to the SF breadth of the man's oeuvre.
The Lost World by Sir Arthur Conan Doyle, Pan, £7, pbk, ISBN 978-1-509-85849-1.
Primarily Conan Doyle is today remembered for Sherlock Holmes. However, Doyle himself often preferred his Professor George Edward Challenger character, and even used to impersonate him from time to time, including in public. Of the Challenger stories, The Lost World is perhaps the most famous. Challenger, 'a cave-man in a lounge suit', was an eccentric scientist, explorer and hunter all rolled into one. In The Lost World Professor Challenger goes to South America where, on a mountain top plateau, he finds an ecologically isolated land far above the Amazon rain forest. There, dinosaurs still roam and the expedition soon discovers that survival is more important than bringing home a trophy...
Scarlet Traces Vol. 2 by Ian Edington and D'Israeli, 2000AD, £15.99, trdpbk, ISBN 978-1-781-08561-5.
Graphic novel, and the British Empire, now equipped with Martian technology left after The War of the Worlds, decides to… This follows on from Scarlet Traces: A Murder-Mystery Sequel to H. G. Wells' The War of the Words .
E.T.: The Extraterrestrial – The Classic Illustrated Storybook, Quirk Books £15.99, hrdbk, ISBN 978-1-683-69010-8.
This is released in time for the film's 35th anniversary.
The Rift Uprising by Amy S. Foster, Harper Voyager, £8.99, pbk, ISBN 978-0-008-17926-7.
Ryn might seem a normal school girl but actually she is an elite, cybernetically enhanced soldier guarding a tear in the fabric of the universe.
Doctor Who: Now Near Six Hundred – A Collection of Time Lord Verse by James Goss, BBC Books, £9.99, hrdbk, ISBN 978-1-785-94271-6.
And here's the pre-publication promotional snippet… If I were a Dalek / And a big Dalek too / I should not much care / What happened to you.
Night Without Stars by Peter F. Hamilton, Pan, £8.99, pbk, ISBN 978-1-447-23275-9.
This is the follow-up to The Abyss Beyond Dreams and the world of Bienvenido is in trouble.
The Turn by Kim Harrison, Piatkus, £8.99, pbk, ISBN 978-0-349-41457-7.
This is the prequel to The Hollows and humanity s hit by a plague.
The Smoke by Simon Ings, Gollancz, Gollancz, £16.99, trdpbk, ISBN 978-0-575-12007-5.
Love and loss in a future world where Mankind has speciated into three, with each species mutually incomprehensible to the others…
The Stone Sky by N. K. Jemisin, Orbit, £8.99, pbk, ISBN 978-0-356-50868-9.
From the Hugo-winning author of The Fifth Season and the post-apocalyptic broken Earth trilogy concludes.
Hold Back the Stars by Katie Khan, Black Swan, £7.99, pbk, ISBN 978-1-784-16177-4.
This opens with a cliff-hanger start with Carys and Max adrift in space, slowly tumbling away from their ship with no means of returning and with just 90 minutes of air… And that is all we know from the pre-publicity other than this is a debut novel that should have been released back in July and which is now slated for November.
Provenance by Ann Leckie, Orbit, £17.99, hrdbk, ISBN 978-0-356-50695-1.
A power-driven orphan has just one chance to secure the status she craves and regain priceless lost artefacts prized by her people. She must free their thief from a prison planet from which no one has ever returned. Ingray and her charge will return to her home world to find their planet in political turmoil, at the heart of an escalating intergalactic conflict. Together, they must make a new plan to salvage Ingray's future, her family and her world, before they are lost to her for good. Anne Leckie was one of 2014's Hugo Award nominations which it went on to win, winner of the 2014 Clarke Award, Nebula Award for 'Best Novel', Locus Award and was the co-winner of the 2014 BSFA Award for 'Best Novel' for her 'Ancillary' trilogy.
The Futurological Congress by Stanislaw Lem, Penguin Classics, £9.99, pbk, ISBN 978-0-241-31278-0.
Poland's SF grandmaster Lem's 1971 dark humour, SF novel is reprinted. A traveller from outer space comes to Earth for a conference, but a revolution catapults him into a hallucinogenic, pharmaceutical-induced, synthetic future paradise. Highly recommended for serious SF literature aficionados.
The Wandering Earth by Cixin Liu, Head of Zeus, £8.99, pbk, ISBN 978-1-784-97851-8.
Collection of his shorts from China's leading, extant SF writer.
Invisible Planets edited by Ken Liu, Head of Zeus, £8.99, pbk, ISBN 978-1-786-69278-8.
A collection of shorts. See title link for Allen's standalone review.
2023 by The Justified Ancients of Mi Mu, Faber, £17.99, hrdbk, ISBN 978-0-571-33808-5.
'The Justified Ancients of Mi Mu' are better known as Bill Drummond and Jimmy Cauty. This is billed as being set in the near future but written in the near past…
The Corporation Wars: Emergence by Ken MacLeod, Orbit, £14.99, hrdbk, ISBN 978-0-356-505004-6.
The final in the trilogy that began with Dissidence and continued with Insurgence. It sees much downloaded human activity in computer simulated environs interspersed with their being uploaded into robot frames to do things in the real world. In the previous novel, Carlos and companions had been brought by star wisp to another star system where much hardware had been fabricated out of local materials. However, free-thinking robots came to being and the Corporations back on Earth had their own AIs in the mix attempting to guide events…
Austral by Paul McAuley, Gollancz, £14.99, trdpbk, ISBN 978-1-473-21731-7.
This is an SF thriller and Paul McAuley's latest novel. In a globally warmed world, and set in the Earth's newest nation on the Antarctic Peninsula, a kidnap goes wrong with a genetically altered (to withstand the cold) correction officer escaping with the victim but afraid that she will not be believed and mistaken as one of the plotters. Meanwhile, friends of the real kidnappers are also on the lookout for them… (Interestingly, the globally warmed Antarctic Peninsula is a focus of current climate change impact research and, as Jonathan points out over on his own satellite site, this book's publication s coincident with the publication of some of this research.) Click on the title link for Jonathan's stand-alone review.
The White City by Simon Morden, Gollancz, £8.99, pbk, ISBN 978-1-473-21149-0.
This is the sequel to Down Station. Click on the title link to see David's standalone review.
Blue Shift by Jane O'Reilly, Piatkus, £8.99, pbk, ISBN 978-0-349-41658-8.
SF space-opera cum romance. Rich girl turned ace pilot finds herself stranded on a prison ship with a dangerous criminal… The Earth is cold, dead and divided. The rich hide away from reality while the rest will do anything to survive. Humanity has only one hope: reaching a habitable planet. But getting there means travelling in large numbers through alien-held space, something that's politically nearly impossible. Yet for some, fighting their way through space is just a way of life… Jinnifer Blue is a rich girl on the run. An expert pilot, she apprehends criminals on behalf of the government and keeps her illegal genetic modifications a closely guarded secret. But when a particularly dangerous job goes south, leaving her stranded on a prison ship with one of the most ruthless criminals in the galaxy, Jinn realises that the rich and the powerful are hiding more than she'd ever guessed. Now she must decide if she can trust her co-prisoner – because once they discover what the prison ship is hiding, she definitely can't trust anyone else…
The Dark Net by Benjamin Percy, Hodder & Stoughton, £14.99, trdpbk, ISBN 978-1-473-65221-7.
Actually, this is science fantasy with the dark internet now hosting a demonic force that is beginning to hack the minds of its users…
Waking Hell by Al Robertson, Gollancz, £8.99, pbk, ISBN 978-1-473-20344-0.
Action thriller set on an asteroid station.
Pariah by Jamie Sawyer, Orbit, £8.99, pbk, ISBN 978-0-356-50812-2.
This is the first in a new space opera trilogy, 'Eternity War'.
The Core of the Sun by Johanan Sinisalo, Grove Press, £8.99, pbk, ISBN 9781-611-85526-5.
Dystopian version of Finland and a new sub-species of woman is bred for seΧ and procreation. Reminiscent of The Handmaid's Tale.
The Hangman's Daughter by Gavin Smith, Gollancz, £9.99, pbk, ISBN 978-1-473-21725-6.
It is the 25th century and Miska has stolen a prison ship turning its occupants into her own, personal army. From the author of A Quantum Mythology.
Infinity Wars by Jonathan Strahan, Solaris, £11.99, pbk, ISBN 978-1781-08491-5.
Empire Games by Charles Stross, Tor, £7.99, pbk, ISBN 978-1-447-24628-2.
This is the mass-market edition of the spring's hardback. After a few years, Charles Stross returns us to the parallel worlds of the 'Merchant Princes' series that included The Clan Corporate. Rita Douglas is plucked from her dead-end job and trained as a reluctant US spy. All because she has the latent genetic talent to hop between alternate timelines – and infiltrate them. The United States is waging a high-tech war, targeting assassins who can move between worlds to deliver death on a mass scale. And Rita will be their secret weapon. Miriam Beckstein has her own mission, as a politician in an industrial revolution US. She must accelerate her world's technology before their paranoid American twin finds them. It would blow them to hell. After all, they've done it before… This can probably be read as quite standalone to the series as any back-story will be explained as we go along: Charles Stross is usually very good this way.
Grandville Force Majeure by Bryan Talbot, Jonathan Cape, hrdbk, ISBN 978-1-910-70224-6.
Graphic novel, science fantasy and the fifth and final in the Granville series set in a steampunk-ish world in which Napoleon won at Waterloo. Its protagonist is Detective Inspector LeBrock from the author of the comics SF classic The Adventures of Luther Arkwright and the Guest of Honour at the 2014 Worldcon.
Dogs of War by Adrian Tchaikovsky, Head of Zeus, £18.99, hrdbk, ISBN 978-1-78-669588-4.
Rex is a good dog and faithfully devoted to his master. Rex is also genetically engineered, 7-foot tall to the shoulder and bullet proof. But what happens when his master is tried as a war criminal? Tchaikovsky is more associated with Tor at Pan Macmillan so we are not quite sure what this change of publisher to Head of Zeus heralds…
NK3 by Michael Tolkin, Grove press, £12.9c9, trdpbk, ISBN 978-1-611-8518-0.
A memory-destroying virus, NK3, purportedly from North Korea, infects California…
Star Wars: From a Certain Point of View by Various, Century, £20, hrdbk, ISBN 978-1-846-05683-3.
This is an anthology marking the 40th anniversary of the original film, that features Star Wars stories by bestselling authors, trendsetting artists, and treasured voices from Star Wars' novel history. Over 40 authors have lent their unique vision to 40 "scenes," each retelling a different moment from the original Star Wars film, but with a twist: every scene is told from the point of view of a seemingly minor character. Whether it is the X-wing pilots who helped Luke destroy the Death Star or the storm troopers who never did find the droids they were looking for, Star Wars: From A Certain Point of View places the original film in a whole new perspective.
Beyond the Empire by K. B. Wagers, Orbit, £9.99, pbk, ISBN 978-0-356-50716-3.
The Indranian war concludes. Imagine if Han Solo were a woman: you'd get Hail Bristol: gunrunner, feared captain and long-lost princess. Former gunrunner-turned-Empress Hail Bristol was dragged back to her home planet to take her rightful place in the palace. Her sisters and parents have been murdered, and the Indranan empire is reeling from both treasonous plots and external invasion. Hail finds herself fighting a full-scale war for her throne and her people, with the aid of a motley crew of allies old and new – even as the same powerful enemies who killed her family conspire to destroy everything she loves.
The Dark Judges: Tainted – Fall of Deadworld by John Wagner et al, 2000AD, £18.99, hrdbk, ISBN 978-1-781-08603-2.
Graphic novel. This is a kind of prequel that adds to the Judge Death story arc that began with The Dark Judges way back in 1980 and which has its latest continuation currently (September 2017) in the monthly Judge Dredd Megazine. Having said that, it is sufficiently complete in itself that it can be read as a standalone. The story concerns a parallel Earth before the Dark Judges exterminated all human life (under the rationale that only the living commit crime). Excellent science fantasy.
The Embedding by Ian Watson, Gollancz, £9.99, pbk, ISBN 978-1-473-22267-0.
Watson writes soft SF, often in contemporary or near future settings and with fantastical, psychological perception riffs. With this edition The Embedding joins Gollancz's SF Masterwork series. Here he explores the problem of language and the limits of awareness. The SF Encyclopaedia says this of The Embedding: -- Through a complex tripartite plot, the book engages in a searching analysis of the nature of communication through language; the Whorfian hypothesis that languages comprehensively shape our perception of reality – a hypothesis very attractive, for obvious reasons, to SF writers, though now discredited – is bracingly embodied in at least two of the subplots: one describing a cruel experiment in which children are taught only an artificial language; the other showing attempts on the part of visiting aliens to understand Homo sapiens through an analysis of our modes of communication.
Firefall by Peter Watts, Head of Zeus, £8.99, pbk, ISBN 978-1-786-69610-6.
Ultra hard, biological SF first contact diptych duology of Echopraxia and the original, award-winning Blindsight together in one volume. If you are really into science and hard SF, and enjoy the occasional fantasy riff (for example, there are vampires but these are artificially genetically altered para-species of human), then you could simply love this. (Non-science readers might find it a bit hard going and miss out on some of the thinking underpinning these works.) Click on the title link for a standalone review.
Artemis by Andy Weir, Del Rey. £12.99, hrdbk, ISBN 978-0-091-95694-3 Andy Weir's second book following the brilliant, mundane-SF The Martian and rather good film. This time we are in Artemis, the first Lunar city in which a porter sees the opportunity to commit the perfect crime… For more see Del Rey buys rights in Publishing & Book Trade News earlier above.
Star Wars: Aftermath – Empire's End by Chuck Wendig, Arrow, £8.99, pbk, ISBN 978-0-099-59429-1.
The final in Wendig's trilogy.
Crosstalk by Connie Willis, Gollancz, £8.99, pbk, ISBN 978-147-320094-4.
A near future romantic comedy in which Briddey's new partner wants her to undertake a procedure so as to sense each others feelings…
Doorways in the Sand by Roger Zelazny, Farrago, £8.99, pbk, ISBN 978-1-911-44087-1.
This is a hugely welcome reprint of Zelazny's 1976 novel. Fred Cassidy, permanent student, knows little about the Star Stone except that it came to Earth in an interplanetary trade for the Mona Lisa and the Crown Jewels, Then Fred is accused of stealing the artefact and the next thing is he is being chased from Australia to Greenwich Village and beyond by telepathic psychologists, extraterrestrial hoodlums, and galactic police in disguise, as he enters realities, flipping in and out of alien perspectives, through doorways in the sand… Brilliant gung-ho SF brio.
Autumn 2017
Forthcoming Fantasy Books
The Hanging Tree by Ben Aaronovitch, Gollancz, £8.99, pbk, ISBN 9780-575-13257-3.
PC Peter Grant is on his sixth standalone adventure investigating magical crime. See title link for a standalone review.
The Furthest Station by Ben Aaronovitch, Gollancz, £12.99, hrdbk, ISBN 978-1-473-22242-7.
A new PC Peter Grant on his 7th outing. That this is only £12.99 for a hardback – even if onbly a novella – demonstrates Gollancz's faith in this title, and little wonder given the steady sales. This book is part of a series of standalones that this year was nominated/shortlisted for the new Hugo category of 'Best Series'.
Son of the Night by Mark Alder, Gollancz, £18.99, trdpbk, ISBN 978-0-575-11520-0.
Fantasy meets medieval adventurer in the sequel to Son of the Morning.
Blood Crime by Sebastian Alzamora, Soho Press, £8.99, pbk, ISBN 978-1-616-95836-7.
Gothic novel set in the 1936 Spanish Civil War in Barcelona with vampires.
Rituals by Kelly Armstrong, Sphere, £18.99, hrdbk, ISBN 978-0-751-56128-9.
The conclusion of the Cainsville series.
Ashes Reborn by Kevi Arthur, Piatkus, £8.99, pbk, ISBN 978-0-349-41101-9.
Urban fantasy thriller. Emberly Prearson is a phoenix capable of taking human form and haunted by her ability to foresee death.
Mageborn by Stephen Aryon, Orbit, £8.99, pbk, ISBN 978-0-356-50847-4.
This is the start of a new series but set in the previous 'Battlemage' trilogy.
Age of Assassins R. J. Barker, Orbit, £8.99, pbk, ISBN 978-0-356-50854-2.
This is a debut and an epic fantasy set in a world ravaged by magic in which an apprentice assassin embarks on his career.
Raising Fire by James Bennett, Orbit, £8.99, pbk, ISBN 978-0-356-50865-4.
The last active dragon is in hiding in our modern world.
Of Sand and Malice Made by Bradley Beaulieu, Gollancz, £8.99, pbk, ISBN 978-1-473-21846-8.
Prequel to Twelve Kings.
Breath of Fire by Amanda Bouchet, Piatkus, £8.99, pbk, ISBN 978-0-349-41257-3.
Lost Princess Catalia must use her immense power, despite her misgivings, as her realm descends into war…
The Core by Peter V. Brett, Harper Voyager, £18.99, hrdbk, ISBN 978-0-007-42572-3.
Fifth and concluding 'Demon Cycle' sequence that has sold rather well. See also next below.
Messenger's Legacy by Peter V. Brett, Harper Voyager, £8.99, pbk, ISBN 978-0-008-23633-5.
The fourth in Brett's ''Demon Cycle' sequence. See previous above.
Peace Talks: The Dresden Files, Book Sixteen by Jim Butcher, Orbit, £20, hrdbk, ISBN 978-0-356-50091-1.
Meet Harry Dresden, Chicago's first (and only) Wizard PI. Turns out the 'everyday' world is full of strange and magical things – and most of them don't play well with humans. That's where Harry comes in. But he has forgotten his own golden rule: magic – it can get a guy killed.
The Day Before Forever by Anna Caltabiano, Gollancz, £9.99, pbk, ISBN 978-1473-20047-0.
This is time travel, Jane Austen style. They burst into our time in Elizabethan garb and look out of place, except they are promptly taken for museum re-enactors… This is the final in a trilogy. Click on the title link for Arthur's standalone review.
The Fall of Dragons by Miles Cameron, Gollancz, £18.99, trdpbk, ISBN 978-1-473-20889-6.
The Red Knight's final battle lies ahead in the fifth novel in the 'Traitor Son' cycle.
Successor's Promise by Trudi Canavan, Orbit, £20, hrdbk, ISBN 978-0-356-50116-1.
This follows Thief's Magic and Angel of Storms. Five years have passed since the Rebels confronted the Raen. Five years, in which the boy Rielle rescued, Qall, has grown up among the Travellers, with no memory of the life that was stolen from him. Five years of chaos, barely contained by Baluka and the Restorers. Worlds are at war, some overrun by deadly machines, some drained of magic by power-hungry sorcerers. As Qall comes of age, and Rielle and Tyen's hard-won peace is threatened, their loyalties are tested – and Qall's very existence is at stake.
Fireworks by Angela Carter, Vintage Classics, £8.99, pbk, ISBN 978-1-784-87298-4.
This is Angela's first collection of short stories reprinted. Vintage Classics are doing a great job for us and they have reprinted a number of her novels in recent years. The late Angela Carter was the writer behind the film Company of Wolves.
The Tethered Mage by Melissa Caruso, Orbit, £8.99, pbk, ISBN 978-0-356-51061-3.
This is a debut and a fantasy set in a world where magic is scarce. Those with the power are conscripted to the Falcon army and bound to non-magical Falconers.
The King in Yellow by Robert. W. Chambers, Pushkin Press, £9.99, hrdbk, ISBN 978-1-782-27376-9.
This anthology of four supernatural novelettes was first published in 1895. Apparently they helped inspire H. P. Lovecraft.
It Devours by Joseph and Jeffrey Cranor, Orbit, £16.99, hrdbk, ISBN 978-0-356-50864-1.
This is the follow-up to Welcome to Night Vale which itself is based on a popular fantastical US blog. Night Vale is a friendly desert community where the sun is hot, the moon is beautiful and mysterious lights pass overhead while its citizens pretend to sleep. It's a town like your town, with a city hall, a bowling alley, a diner and a radio station reporting all the news that's allowed to be heard. It might be more like your town than you'd like to admit.
Seventh Decimate by Stephen Donaldson, Gollancz, £16.99, hrdbk, ISBN 978-1-473-22166-6.
This is the first in the 'God's war' sequences and the author's first new series since 1991. In a war, two nations employ sorcerers to wield six deadly decimates: Fire, Earth, Wind, Water, Lightening and pestilence… But now there is a seventh…
Deadhouse Landing by Ian C. Esslemont, Bantam Press, £20, hrdbk, ISBN 978-0-543-07473-2.
The second following Dancer's Lament, in the 'Path to Ascendancy' sequence and set in the popular Malazan continent.
Dark Carousel by Christie Feehan, Piatkus, £8.99, pbk, ISBN 978-0-349-41028-9.
The latest Feehan Carpathian novel first time out as a mass market paperback.
Dark Legacy by Christie Feehan, Piatkus, £20, hrdbk, ISBN 978-0-349-41650-6.
The latest Feehan Carpathian novel first time out (hardback).
Leopard's Blood by Christie Feehan, Piatkus, £8.99, pbk, ISBN 978-0-349-41614-6.
Paranormal romance.
The Remnant by Charlie Fletcher, Orbit, £9.99, pbk, ISBN 978-0-356-50293-9.
This is the final in the 'Oversight' trilogy about a secret society that keeps the natural and supernatural worlds apart so as to stop each from preying on the other. Click on the title link for Ian's stand-alone review.
The Blood of the Hoopoe by Naomi Foyle, Jo Fletcher Books, £9.99, pbk, ISBN 978-1-782-06924-9.
Astra is a long-prophesised icon, but is she ready for her destiny? One of Foyle's previous offerings was Seoul Survivors.
Caraval by Stephanie Garber, Hodder, £.99, pbk, ISBN 978-1-473-62916-5.
This is a debut novel. Scarlett, who has never left her island, receives and invitation with her sister, Tella, to the week-long Caraval performance. But soon after they arrive, Tella disappears… This is the mass-market paperback release. Earlier in the year the hardback went to no. 3 in The Sunday Times hardback chart.
Rhyming Rings by David Gemmell, Gollancz, £8.99, pbk, ISBN 978-1-473-21994-6.
Normally you'd associate the late David Gemmell with sword and sorcery fantasy, but this is decidedly urban thriller. It is also a new novel from a previously undiscovered manuscript and never before published. Jeremy Miller looks into the case of an ambidextrous murderer. Click on the title link for Sebastian's standalone review.
Death's Mistress by Terry Goodkind, Head of Zeus, £8.99, pbk, ISBN 978-1-786-69165-1.
New epic fantasy from an established fantasy author.
Into the Drowning Deep by Mira Grant, Orbit, £8.99, pbk, ISBN 978-0-356-50810-8.
A new expedition sets to sea to find out what happened to a previous expedition who had been filming a mockumentary on legendary sea creatures.
A Plague of Giants by Kevin Hearne, Orbit, £8.99, pbk, ISBN 978-0-356-50959-4.
Warring giants and elemental magic, what's not for sword and sorcery fantasists to like? In the city of Pelemyn, Fintan the bard takes to the stage to tell what really happened the night the giants came… From the east came the Bone Giants, from the south, the fire-wielding Hathrim – an invasion that sparked war across the six nations of Teldwen. To protect their lands and their lives, the people must call upon all their magic – but such powers come at great cost.
Lord of Darkwood by Lian Hearn, Picador, £7.9, pbk, ISBN 978-1-509-81283-7.
He second and apparently final Shikanado story.
A Pocketful of Crows by Joanne M. Harris, Gollancz, £12.99, hrdbk, ISBN 978-1-473-22218-2.
A myth-like novella of love, loss and revenge.
Heart-Shaped Box by Joe Hill, Gollancz, £8.99, pbk, ISBN 978-1-473-33370-0.
Judas Coyne is a semi-retired death-metal rock-god already haunted by his past: the memory of an abusive father, the passing of old band members, and the apparent suicide of a girl he loved and left behind. So, when he discovers a ghost for sale on the internet, it seems only natural to bid for it to add to his collection of bizarre and macabre memorabilia… This is a reprint of Hill's debut novel, 10 years on from first publication and no doubt due to the continually growing following he is accruing. Click on the title link for Tony's standalone review.
Strange Weather by Joe Hill, Gollancz, £14.99, hrdbk, ISBN 978-1-473-22117-8.
A collection of four, weather-related novellas. For example, 'Rain' sees a downpour of deadly crystal splinters… See our Gollancz news earlier above for more information.
Firestorm by Lucy Hounsom, Pan, £7.99, pbk, ISBN 978-1-509-84051-9.
The final in the 'Worldmaker' trilogy following Starborn. See also the next item below.
Heartland by Lucy Hounsom, Pan, £7.99, pbk, ISBN 978-1-447-26862-8.
The second in the 'Worldmaker' trilogy following Starborn. See also the previous item above.
The Stealer's War by Stephen Hunt, Gollancz, £9.99, pbk, ISBN 978-0-575-09215-0.
This is the first in a new trilogy. Jacob wants revenge on a technologically advanced enemy who tore apart Weyland…
An Echo of Things to Come by James Islington, Orbit, £16.99, hrdbk, ISBN 978-0-356-50780-4.
Book two of the Licanious trilogy.
Tarnished City by Vic James, Pan, £7.99, pbk, ISBN 978-1-509-82149-5.
This is the second in the 'Dark Gifts' trilogy following Gilded Cage.
Three Men in the Dark edited by Hugh Lamb, works by Jerome K. Jerome, Barry Pain, and Robert Barr, Harper Fiction. £8.99, pbk, ISBN 978-0-008-24905-2.
A horror anthology of stories by Jerome and two of his contemporaries.
The Bloodprint by Ausma Zehanat Khan, Harper Voyager, £14.99, hrdbk, 978-0-008-18757-5.
This is the first in a new quartet. A dark movement called the Talisman is a superstitious patriarchy that also suppresses knowledge…
Dragonsworn by Sherrilyn Kenyon, Piatkus, £20, hrdbk, ISBN 978-0-349-41327-3.
The latest in the Dark Hunter sequence.
Godsgrave by Jay Kristoff, Harper Voyager, £12.99, hrdbk, ISBN 978-0-008-18003-4.
This is the second in the 'Nevernight Chronicles'.
Jade City by Fonda Lee, Orbit, £13.99, trdpbk, ISBN 978-0-356-61050-7.
Jade is a substance that enhances warriors' minds and strength. It is mined and controlled by two families. Think, Grasshopper, The Godfather but with magic and kung fu.
I am Behind You by John Ajvide Lindqvist, Riverrun, £18.99, hrdbk, ISBN 978-1-786-48039-2.
On a camping holiday, Molly wakes her mother to go to the loo. But the campsite is strangely blank, everything has gone including the toilet block. Just four families remain. What's more, something is slowly moving irrevocably towards them… Recommended.
The Crow Garden by Alison Littlewood, Jo Fletcher Books, £16.99, hrdbk, ISBN 978-1-76-48525-0.
A new doctor arrives at Crakethorne Asylum and he takes a close interest in one of the patients, the beautiful Mrs Harleston. Her husband claims she is delusional and hysterical. But she accuses him of concealing terrible secrets…
The Hidden People by Alison Littlewood, Jo Fletcher Books, £8.99, pbk, ISBN 978-1-786-4077-4.
A Victorian man travels north after the murder of his cousin who was thought to be a changeling…
The Sixth Watch by Sergei Lukyanenko, Arrow, £9.99, pbk, ISBN 978-0575-09215-0.
Sergei Lukyanenko is Russia's equivalent to Neil Gaiman crossed with J. K. Rowling: he is a fantasy superstar over there. This novel concerns Anton Gorodetsky who is now a seasoned 'other' with magical abilities and quite senior in the middle-management of the Night Watch's Moscow office. He is (now) married and has a very powerful and increasingly talented, magical young daughter. But it becomes clear that a series of vampire attacks on Moscovites is actually a message for Anton and specifically a warning… Click on the title link for a standalone review.
Mississippi Roll edited by George R. R. Martin, Harper Voyager, £8.99, pbk, ISBN 978-0-008-23956-5.
Another anthology of stories by various authors but set in George R. R. Martin's world of superheroes.
One Star Awake by Andrew Meelian, New Island Books, £11.99, pbk, ISBN 978-1-848-40627-8.
A young woman has suffered a severe trauma and, waking up in a Parisian restaurant, she discovers her memory has gone. Over the summer, she pursues a strange man as slowly fragments of her memory return… This is from an Irish author by an Irish publisher. Something to bear in mind if you are planning going to Dublin Worldcon in 2019.
The Hunt by Chloe Neill, Gollancz, £8.99, pbk, ISBN 978-1-473-22155-0.
This is part of her 'Devil's Isle' sequence.
The Two of Swords: Vol. 2 by K. J. Parker, Orbit, £8.99, pbk, ISBN 978-1-841-49928-4.
Parker a.k.a. Tom Holt, gives us a war epic as told through the eyes of multiple characters. A soldier with a gift for archery. A woman who kills without care. Two brothers, both unbeatable generals, now fighting for opposing armies. No-one in the vast and once glorious United Empire remains untouched by the rift between East and West, and the war has been fought for as long as anyone can remember. Some still survive who know how it was started, but no-one knows how it will end.
The Gradual by Christopher Priest, Gollancz, £7.99, pbk, ISBN 978-1-473-20055-5.
A return to the fantastical Dream Archipelago. See title link for a standalone review.
The Dead Road by Seth Patrick, Pan, £7.99, pbk, ISBN 978-1-447-21342-0.
Long used, 'revivers' can temporarily raise the dead who can then testify in court. This procedure has been quite accepted but things are about to change…
Summerland by Hannu Rajaniemi, Gollancz, £14.99, hrdbk, ISBN 978-1-473-20327-3.
An alternate 1938 and the British Empire now include Summerland, a metropolis for the recently deceased….
Prince Lestat and the Realms of Atlantis by Anne Rice, Arrow, £7.99, pbk, ISBN 978-0-099-59936-4.
This is the 12th Lestat vampire story. This time he faces a sprit from Atlantis.
Year One by Nora Roberts, Piatkus, £16.99, hrdbk, ISBN 978-0-3494-1493-5.
With one drop of blood, the old world is gone for ever. And in its place, something extraordinary begins. They call it 'The Doom' – a deadly pandemic that starts on a cold New Year's Eve in the Scottish countryside. There's something mysterious about the virus and the way it spreads. As billions fall sick and die, some survivors find themselves invested with strange, unexpected abilities. Lana, a New York chef, has the power to move things and people with her will. Fred can summon light in the darkness. Jonah, a paramedic, sees snatches of the future in those he touches. Katie gives birth to twins, and suspects that she has brought fresh magic into the world, along with new life. But The Doom affects people differently. Along with the light, a dark and terrifying magic will also rise.
Oathbringer by Brandon Sanderson, Gollancz, £20, hrdbk, ISBN 978—575-09333-1.
This is the third in the 'Storm Light Archives'.
Immortally Yours by Lynsay Sands, Gollancz, £8.99, pbk, ISBN 978-1-473-22155-0.
The paperback release of Sands' latest Argenau vampire novel.
Archangel's Viper by Nalini Singh, Gollancz, £8.99, pbk, ISBN 978-1-473-21751-5.
Holly Chang now has the bloodlust of a vampire. A 'Guild' novel. In Britain over 150,000 copies of this series has been sold to date.
Blood and Tempest by Jon Skovron, orbit, £9.99, pbk, ISBN 978-0-356-50716-3.
This is the final in the 'Empire of Storms' trilogy.
Vigil by Angela Slatter, Jo Fletcher Books, £8.99, pbk, ISBN 978-1-784-29404-5.
Verity is the daughter of parents, one human, one Wyrd, charged with keeping the peace between the two races.
God's Last Breath by Sam Sykes, Gollancz, £18.99, trdpbk, ISBN 978-0-575-13226-9.
This concludes the 'Bring Heaven Down' trilogy. The great demon Khoth-Kapira has broken free of his prison and taken his first steps upon the mortal world. And he owes it all to Lenk. Believing that the demon will mend a broken world that the gods have ignored, Lenk serves as a reluctant champion to Khoth-Kapira's cause. But as the desperate and fearful flock to Khoth-Kapira's banner, begging for salvation, Lenk begins to doubt his patron's good intentions.
The Bear and the Serpent by Adrian Tchaikovsky, Pan, £8.99, ISBN 978-1-509-85025-1.
The second in the 'Echo of the Fall' sequence. Click on the title link for Karen's standalone review.
The Witch at the Wayside Cross by Lisa Tuttle, Jo Fletcher Books, £16.99, trdpbk, ISBN 978-1-784-29959-0.
The literary fantasy sequel to The Curious Affair of the Somnambulist and the Psychic Thief.
The Last Dog on Earth by Adrian J. Walker, Del Rey, £7.99, pbk, ISBN 978-1-785-03572-2.
For Lineker, a happy-go-lucky mongrel from Peckham, the day the world ends is finally a chance to prove his owner – an agoraphobic, football-obsessed writer – just how loyal he can be. This did reasonably well in hardback and had been due out in mass market paperback in the summer, but this has been delayed until the autumn.
The Choice by J. R. Ward, Piatkus, £8.99, pbk, ISBN 978-0-349-41091-9.
The 15th in the 'Black Dagger Brotherhood' sequence.
The Blood Mirror by Brent Weeks, Orbit, £9.99, pbk, ISBN 978-0-356-50463-6.
4th in the 'Light bringer' sequence. Magical fantasy. The author has had over 500,000 BookScan sales in Britain.
The Ninth Rain by Jen Williams, Headline, £8.99, pbk, ISBN 978-1-472-23518-3.
Sword and sorcery. See also the standalone review of Jen Williams' The Silver Tide. Click on the title link to see Ian's review of The Ninth Rain.
Destiny's Conflict by Jenny Wurts, Harper Voyager, £14.99, hrdbk, ISBN 978-0-008-23002-9.
Book two of 'the Sword' sequence.
Autumn 2017
Forthcoming Non-Fiction SF & Popular Science Books
Zooquest: The Adventures of a Young Naturalist by David Attenborough, Two Roads, £20, hrdbk, ISBN 978-1-473-66440-1.
The scholarly television presenter has his early life autobiography reprinted for the first time in 30 years. Re-published now to mark his 65th anniversary at the Beeb Beeb Ceeb.
Origins by Jim Baggott, Oxford University Press, £16]99, pbk, ISBN 978-0-198-70765-3.
What happened between the big bang and the emergence of consciousness…
The Ends of the World: Volcanic apocalypses, lethal oceans and the quest to understand Earth's past mass extinctions by Peter Brannen, One World, £16.99, hrdbk, ISBN 978-1-786-07007-4.
AD ASTRA: An illustrated guide to leaving the planet by Dallas Campbell, Simon & Schuster, £16.99, hrdbk, ISBN 978-1-471-16405-7.
From tortoises that flew to the Moon to a history of the space station. This is billed as an 'entry-level' introduction.
Star Trek: The book lists by Chip Carter, Harper design, £20, hrdbk, ISBN 978-0-062-68588-9.
100 lists of compelling Trek facts and trivia.
Big Data: Surviving the Information Revolution by Brian Clegg, Icon, £7.99, pbk, ISBN 978-1-785-78254-3.
What with things like the Brexit vote or Trump election, is this due to manipulating big data and is it the beginning of the end for democracy? Why do airlines overbook? Why do banks so often get it wrong? These and other big data matters addressed.
30-Second Quantum Theory by Brian Clegg, Icon, £9.99, pbk, ISBN 978-1-785-78291-6.
50 short essays that can apparently be read in 30 seconds each.
Space Exploration: A History by Carolyn Collins Petersen, Amberley, £20, hrdbk, ISBN 978-1-445-65603-8.
Orphan Black: Classified Clone Reports by Keith R. A. Decandido, Titan, £35, hrdbk, ISBN 978-1-785-65528-9.
And Then You Are Dead: A scientific explanation of the World's most interesting ways to die by Paul Doherty & Cody Cassidy, Allen & Unwin, £7.99 pbk, ISBN 978-1-760-29115-6.
An explanation of exotic ways to end it all. For example, how far could you actually get digging your own deep grave?
Science(-ish): The peculiar science behind the movies by Rick Edwards & Michael Brooks, Atlantic, £12.99, hrdbk, ISBN 978-1-786-499221-0.
Based on the podcast, the authors ask question such as could we really resurrect species as I Jurassic Park or do we live in a computer simulation as in The Matrix.
Are We Smart Enough to Know how Smart Animals Are? by Frans de Waal, Granta, £9.99, pbk. ISBN 978-1-783-78306-9. Biologist de Waal takes us on a tour of cognition from bats to octopuses via many other animals including cats and dogs.
The Telomerase Revolution: The Enzyme that holds the key to human aging… and will soon lead to longer, healthier lives by Michael Fossil, Atlantic, £9.99, pbk. ISBN 978-1-782-39912-4. Telomeres are part of the chromosome and they get a bit shorter with each cell division and so the length of a person's telomeres is an indication of the number of times their cells can divide. There have been many competing theories about the nature of human ageing, but scientific consensus is forming around the telomere theory, which argues that human ageing is the result of cellular ageing. Telomerase re-lengthens the telomeres, keeping these cells young. In The Telomerase Revolution, Michael Fossil describes how telomerase will soon be used as a powerful therapeutic tool, with the potential to dramatically extend lifespans, and provides startling and powerful insights into the nature of human ageing.
Time Travel by James Gleick, Fourth Estate, £9.99, pbk, ISBN 978-0-007-54445-5.
How it can, and is, being done.
Slayers and Vampires: The Complete Uncensored, Unauthorised, Oral History of Buffy The Vampire Slayer and Angel by Edward Gross & Mark Altman, Boxtree, £16.99, hrdbk ISBN 978-0-752-26635-0.
Draws on interviews of over a hundred writers, producers, stars and even sociologists.
Writing Diverse Characters for Fiction, TV or Film by Lucy V. Hay, Creative Essentials, £16.99, pbk, ISBN 978-0-857-33011-8.
Billed as the first book to explore issues of race, disability, sexuality and gender with regard to characterisation by screenwriters.
Buffy The Vampire Slayer Encyclopaedia: The Ultimate Guide to the Buffyverse by Nancy Holder, Harper Design, £30, hrdbk, ISBN 978-0-062-65966-8.
Authorised A-Z compendium, fully illustrated, covering characters, locations, episodes, weapons, demons and recurring gags.
A Galaxy of Her Own: Amazing Stories of Women in Space by Libby Jackson, Century, £1.99, hrdbk, ISBN 978-1-780-89836-0.
50 stories of inspirational women from the 19th century's Ada Lovelace to the women behind the Apollo missions.
The Science of Food: Why sugar puffs, caffeine hits and fridges cool by Marty Jopson, Michael O'Mara, £12.99, hrdbk, ISBN 978-1-784-2432-9.
Close Encounters of the Third Kind: The ultimate visual history by Michael Klastorin, Titan, £40, hrdbk, ISBN 978-1-785-65728-3.
Marks the 40th anniversary of the film.
The Vacation Guide to the Solar System: Science for the Savvy Space Traveller by Olivia Koski et al, Science Square Peg, £12.99, hrdbk, ISBN 978-1-910-93134-9.
Aliens: Past, present and future by Ron Miller, Watkins, £25, hrdbk, ISBN 978-1-780-38968-7.
From the earliest speculations some 400 years ago to the current search for Earth 2.0.
Ask An Astronaut: My Guide to Life in Space by Tim Peake, Century, hrdbk, £20, ISBN 978-1-780-89817-9.
One of Britain's astronauts explains what it is like starting with arriving in space and your beginning to wee out your skeleton.
The Naked Ape by Desmond Morris, Vintage, £9.99, pbk, ISBN 978-0-099-48201-7.
This is a welcome reprint, 50 years on, of the classic popular science best-seller that took Britain by storm back in the 1960s. It is a zoological cum anthropological look at us humans.
Ghosts: A Haunted History by Lisa Morton, Reakton Books, £9.99, pbk, ISB 978-1-780-23843-2.
The history of the ghost mythos from ancient Egypt and Rome to the modern stories of Stephen King.
The Earth Grazers by Christopher Potter, Head of Zeus, £25, hrdbk, ISBN 978-1-784-97432-9.
Concerns near Earth asteroids (not grass munching herbivores).
Valerian and the City of a Thousand Planets: The Art of the Film by Mark Salisbury, Titan, £29.99, hrdbk, ISBN 978-1-785-65400-8.
This is the companion to the summer's Luc Busson film based on the French comic.
The Search for Earth's Twin, Quercus, £9.99, pbk, ISBN 978-1-848-66585-9.
A look at the current break-through area of searching for planets outside the Solar System.
Dublin: The Considered Guide, Roads Publishing, £12, pbk, ISBN 978-1-909-39993-8.
Given Dublin has just won the bid to hold the 2019 Worldcon, you might find this pocket-sized guide useful. All the more so as it eschews the usual tourist experience and includes some tips from Dublin's leading creative individuals.
Significant Figures: Lives and Works of Trail-Blazing Mathematicians by Ian Stewart, Profile, £20, hrdbk, ISBN 978-1-781-25429-5.
If maths is your bag then you'll love this. Ian Stewart is also known for his 'Science of Discworld' books with Jack and Terry. And if you like the sound of this book then consider the article Ian recently wrote for us, on his favourite scientists, a teaser.
Special Relativity and Classical Field Theory by Leonard Susskind & Art Friedman, Allen Lane, £25, hrdbk, ISBN 978-0-244-129332-4.
This is the third in Susskind's physics series.
The Planet Factory: Exoplanets and the search for a second Earth by Elizabeth Tasker, Bloomsbury, £16.99, hrdbk, ISBN 978-1-472-91722-0.
Star Wars: In the Front Line by Daniel Wallace, Titan, hrdbk, £34.99, ISBN 978-1-785-65214-1.
Non-fiction SF, lavishly illustrated depictions of the weapons and armaments used in the Star Wars films.
Alien: Augmented Reality Survival Manuel – Identify, Protect, Survive by Owen Williams, Goodman, £25, hrdbk, ISBN 978-1-787-39004-1.
This follows the release of Alien Covenant.
The Walking Dead: The Official Cookbook by Lauren Wilson, Titan, £24.99, hrdbk, ISBN 978-1-785-65731-3.
Rise of the Necrofauna: A provocative look at the science, ethics and risks of de-extinction by Britt Wray, Greystone Books, £19.99, hrdbk, ISBN 978-1-771-1641647.
Autumn 2017
General Science News
The 2017 Royal Society Book Prize short-list has been announced. Previously known as the COPUS Book Prize, the Rhône-Poulenc Prize, the Aventis Prize, the Winton Prize, and now the Royal Society Insight Investment Science Book Prize (it's a sponsor thing), this year's short-list has been announced in this the awards' 30th year. It consists of:-
Beyond Infinity: An Expedition to the Outer Limits of the Mathematical Universe by Eugenia Cheng (Profile Books)
Testosterone Rex: Unmaking the Myths of Our Gendered Minds by Cordelia Fine (Icon Books)
Other Minds: The Octopus and the Evolution of Intelligent Life by Peter Godfrey-Smith (William Collins)
In Pursuit of Memory: The Fight Against Alzheimer's by Joseph Jebelli (John Murray)
To Be a Machine: Adventures Among Cyborgs, Utopians, Hackers, and the Futurists Solving the Modest Problem of Death by Mark O'Connell (Granta Books)
I Contain Multitudes: The Microbes Within Us and a Grander View of Life by Ed Yong (Bodley Head)
The winner will be announced shortly after this season's news page is posted at 19th September and will receive a cheque for £25,000, with £2,500 awarded to each of the shortlisted authors. +++ Last year's winner here.
The 2017 Fresenius Research Prize has been won by Karl Deisseroth. The Fresenius Research Prize is science's most fiscally rewarding prize valued at £4.6 million (€4m, US$4.5m) of which €500,000 can be used for personal purposes and the rest to support the winner's research. The prize is awarded once every four years. Karl Deisseroth is a US neuroscientist working on optogenetics using light to stimulate neurons and microscopy methods to examine entire organs. The researcher and his team used both to elucidate the neural circuitry associated with psychiatric disorders.
A new heavy particle has been discovered at CERN. The Large Hadron Collider at CERN has discovered a previously only-theorised Xi-cc++ particle. Patrick Spradlin and Paul Soler of Britain's Glasgow University led the team that detected the particle. The nuclei of atoms are made up of protons and neutrons (both baryons) and these in turn are each made up of three quarks. There are six different types of quark and these can be light or heavy: all particles that are made up of quarks are called hadrons. So far all quarks that have been detected contain at most just one heavy quark but the Xi-cc++ just detected has two heavy quarks. The particle is also different in that it has two positive charges and is four times heavier. On the up side, sounds charming. +++ Separate previous related news includes Higgs boson's mass refined.
The proton is lighter than previously thought new measurement reveals. A team from Germany's Max Planck Institute have measured the mass of a proton by seeing how the particles move in an electromagnetic trap. Their measurement – to 32 parts per trillion – was three times more accurate than previous measurements. They found the proton to be 296 parts per trillion lighter than previous measurements. They now want to determine the mass of an antiproton. If the antiprotons has a different mass then it could possibly help explain why there is more matter in the Universe than antimatter (See Physics Reviews Letters, 2017, vol. 119, 033001.). +++ Previous related news coverage includes: Proton got smaller and Proton lighter than neutron.
With global warming, the Earth is likely to see the thermal equator migrate northwards and for drier areas (such as parts of the US and Asia) to become drier and the tropics wetter. Wallace Broecker and Aaron Putnam looked at the changes that took place as the Earth warmed following the last glacial maximum: the Bølling-Allerød climatic transition ~14.6 thousand years ago, as well as the opposite changes that took place during the Little Ice Age 1200 to 1850AD. The thermal equator is the line marking the hottest, varying latitudinal line around the Earth. It is thought it will migrate north as the Earth's northern hemisphere is land dominated and warms faster than the oceans that dominate the southern half of the planet. (See Putnam & Broecker, Science Advances, 2017, vol. 3, e1600871.) +++ Separate previous related news includes: Carbon dioxide emissions in 2016 were flat for third year in row, all of atmosphere has over 400 parts per million carbon dioxide and 2014 warmest year, so far.
Global warming will make where a fifth of the population live almost uninhabitable without air conditioning. The human core temperature is 37°C and so its surface needs to be below 35°C so that excess heat can be lost. Above what is known as a wet-bulb temperature of 35°C human survivability is at risk. Hong Kong and US researchers have now modelled the warmest regions on Earth as to their likely wet-bulb temperatures at the end of the 21st century under IPCC business-as-usual emissions scenario (RCP 8.5). SE Asia is an area where a fifth of the World's population lives and much will approach this limit, and parts exceed it by the end of the century under business-as-usual. The fertile valleys of the Indus and the Ganges, where human population is currently in the hundreds of millions, will likely experience some of the most severe projected hazard from heat waves. (See 'Deadly heat waves projected in the densely populated agricultural regions of South Asia', 2017, Science Advances, vol. 3, e1603322.)
New semiconductor theory brings together chemistry and physics. Whereas physicists focus on the motion of electrons through a crystal structure, chemists often think in terms of atomic orbitals that describe the position of electrons around a given atomic nucleus. This is because chemists usually deal with systems that have fewer atoms and lower symmetry (which crystals have) than those studied by physicists. Furthermore, chemical bonding is naturally described in the language of orbitals. What Barry Bradlyn (Princeton University) and colleagues from a number of research institutes has done is to formulate a theory that relies on both the chemists' perspective of electronic position and the physicists' perspective of electronic motion. The new theory has implications for devices that depend on computing power such as smart phones and PCs themselves. (See Bradlyn et al, 2017, Nature, vol. 547, p298-305, with a review article by Hai Qi, Chemistry and physics happily wed. Nature, vol. 547, p288-9)
British female academics do less research and more teaching and public engagement than their male counterparts. The research was conducted by the Equality Challenge Unit that surveyed over 4,000 science staff at 43 British institutions. It was found that men did more research and less teaching and public engagement than the women in science did. It has to be said that though this difference is statistically significant, the effect is small (less than 0.2 on a 5 point scale). +++ Is this a good thing or a bad thing? Well, that all depends on whether you are a half-full glass or a half-empty glass sort of a person; or whether you are a progressive or (unknowingly) a regressive progressive. It could easily be argued that slightly male-dominated research is to be deprecated. Conversely, it could as easily be argued that women in science spending more time teaching and on public engagement are directly providing role models to the next generation of potential scientists.
EU membership harms collaborative science between wealthy established European Union (EU) members and new former Eastern-bloc EU nations. This seemingly paradoxical result comes from looking at cross-border collaboration in science papers published in the peer-reviewed academic literature. The ten Eastern European nations that joined in 2004 saw a decline in cross-border collaborations after joining. Why? Well, simply put, the researchers contemplate that the best and brightest moved to the west causing a brain drain in their home nations (See Arrieta et al, 2017, Science Advances, vol. 3, e1602232). Had the Eastern European researchers stayed put they presumably would have continued their previous cross-border collaboration with western academics; indeed, cross-border collaboration would have likely increased post-joining the EU due to greater science funding opportunities.
Not-Quiet Earth: Even most of the wild areas of the US experience manmade noise. Rachel Buxton and colleagues surveyed the protected areas in the US and found that human generated noise at at least double the natural background level of noise could be heard in 63% of the area of wild and officially protected areas. (See Science, vol. 356, p531-533.)
Human intelligence study: 80,000 people, 18 genomic regions and 4.8% variance in intelligence. Research on intelligence is at a low if a Nature editorial that cites the lack of the subject in psychology curricula of half a dozen of the finest universities in the United States. The subject, it seems, is dying out on campus because it has echoes of elitism — and worse, racism — that make students and university officials uncomfortable (Nature vol. 545, p385-6). So if it weren't for that editorial it seems unlikely that a study of nearly 80,000 children and adults that looked at their intelligence and their genomes especially 18 genomic regions associated with intelligence (Sniekers, S. et al (2017) Nature Genetics. http://dx.doi.org/10.1038/ng.3869). The associations, the study suggests, could explain up to 4.8% of the variance in intelligence. Of course 4.8% means that 95.2% of variations in intelligence is due to other factors such as other genes and importantly the environment which includes things like exposure to education. Nonetheless, expect controversy…
Over three-quarters of the World's plastic ever manufactured is now waste of which 79% has accumulated in either landfill or the natural environment. US researchers, Roland Geyer, Jenna Jambeck and Kara Law, estimate that to 2015 since mass production began in the 1950s some 8,300 million tonnes of plastic has been produced. Of this around 9%ofwhich had been recycled, 12% was incinerated, and 79% was accumulated in landfills or the natural environment. If current production and waste management trends continue, roughly 12,000 Mt of plastic waste will be in landfills or in the natural environment by 2050AD. This is despite, the researchers estimate, the global recycling rate reaching 44% in 2050AD. (See Science Advances 2017;vol. 3, e1700782.)
Autumn 2017
Natural Science News
Genetically edited human embryos created. South Korean and US researchers have successfully edited human embryos to remove a gene that causes a form of heart disease (hypertrophic cardiomyopathy). Previous genetic modification attempts have had two main problems. First, not all of the embryo's cells get edited, so that the resulting animal consists of a mosaic of unedited and edited cells. Second, the GM can modify other genes. The researchers addressed these problems by first using the gene editing CRISPR-Cas9 at the moment the sperm enters the egg so that all cells subsequently replicated are edited, and second, only injecting the Cas9 and not the CRISPR part. This means that the gene editing functions only for a short while without the CRSPIR part and so increases the chance of only the desired modification taking place (there is no prolonged time in which other edits can be accidentally made). Hypertrophic cardiomyopathy affects roughly one in 500 people. This technique could also be used to edit out over 10,000 genetic disorders. (See Ma, H., et al, 2017, Correction of a pathogenic gene mutation in human embryos. Nature, vol. 548, p413-419, and a summary review Winblad, N. and Lanner, F., 2017, At the heart of gene edits in human embryos. Nature, vol. 548, p398-400). Due to ethical controls, the embryos were destroyed after just five days, but the potential for use to edit genes out of future generations is considerable. Here, see Redesigning Humans: Choosing Our Children's Genes . +++ Previous CRISPR-Cas9 news includes CRISPR-Cas9 a potential weapon? and CRISPR targets antibiotic resistance.
The US Food and Drug Administration has ordered a clinic to cease offering mitochondrial replacement treatment. This is the technique sees a woman's egg have its faulty mitochondria (the organelle that produces energy) replaced with that of another woman's healthy ovum mitochondria. Last year the US National Academy of Sciences ethically approved the procedure. Faulty mitochondrial DNA results in mitochondrial genetic disease that is passed down the female line (male sperm mitochondria do not enter the egg) and this technique successfully combats such inherited mitochondrial disease. In Britain mitochondrial replacement has been approved but the new ethical approval in the US is restricted to male embryos. This is because the three-parent genetic mix cannot be passed on to the next generation (male sperm mitochondria do not enter the egg). It also means that US mothers with the condition have to come to Britain for treatment.
Cytokines markers for Chronic Fatigue Syndrome (CFS) or myalgic encephalomyelitis (ME) have been found. Cytokines are immune system proteins carried in blood. Previous attempts to find the markers have failed, it now seems because collectively, statistically the light ME sufferers cytokines masked those of serious ME sufferers when ME sufferers' cytokines were compared with non-sufferers. Now researchers at the Stanford University School of Medicine have compared non-ME sufferers cytokines with both mild and, separately, moderate and separately again serious ME sufferers. They found that 17 cytokines tracked the severity of ME. (See Proceedings of the National Academy of Science doi.org/b96p 2017.)
The elements of carbon bonded with hydrogen and oxygen bonded with hydrogen
(-OH groups) found in 3,700 million-year-ago (mya) sediments, corroborating previous suggestions of really early life on Earth. Carbon compounds that are light in carbon-13 and more dominant in carbon-12 compared to the non-biological ratio in the environment have previously been found in geology from 3,700 mya. Such carbon-12 rich compounds are suggestive of life: life absorbs to process carbon-12 more efficiently that carbon-13, and so such geological carbon features therefore suggest a biological origin. This in turn indicates that life may have risen very early indeed in the Earth's history (which, of course, also has implications for life elsewhere in our galaxy). Now, Hong Kong and US researchers have looked at such 3,700 mya carbon structures and have found carbon-hydrogen and hydroxide radicals within them. These too are suggestive of a biological origin and so corroborate the view that life got going on our planet soon after (if not, as some say, during) the Late Heavy Bombardment. (See Hassenkam et al, 2017, Nature, vol. 548, p78-81.) +++ Previous related stories includes the first life on Earth could have begun between 3,770 million and 4,280 million years ago.
Ebola has returned. Cases re-emerged in the Congo in May. The previous African outbreak ended in 2016. The World Health Organization is using an experimental vaccine.
Zika – Hundreds of patients' Zika virus genomes reveals source of 2015/6 Americas infections. Zika caused alarm in 2015 with an outbreak in the Americas that (then) seemed to be linked to births of humans with small heads. As the link became established some women in Brazil decided not to have children. Now, a clutch of papers in Nature look at the genomes of hundreds of Zika viruses taken from both humans and mosquito vectors. As time progresses so the virus' genes slowly change: the bigger the change the more time has passed. Also viruses with similar sequences compared to other viruses from a different place that have more different sequences indicate that two separate populations have diverged. Using both techniques it is possible to calculate how and roughly when the epidemic spread and began. What the research shows is that the first human patients were from Pacific islands. Somehow the infection spread to Brazil in 2013/4 even though the first clinical detection was not until 2015. From Brazil it spread in 2014/5 to Honduras, Colombia, Puerto Rico and the Caribbean. From the Caribbean in 2016 it spread to Florida being introduced a number of separate times and that these events were shortly after their first detections in S. America. (See Metsky et al, 2017, Nature, vol. 546, p411-415, Faria et al vol. 546, p406-410, Grubaugh et al vol. 546, p401-405, and a review paper by Worobey, M., vol. 546, p356-7.)
New super antibiotic developed. And not too late too given that recently totally antibiotic resistant bacteria arrived in Britain. It is a new version of vancomycin. Vancomycin was first developed 60 years ago but slowly the number of resistant strains of microbes has increased. The new modified version is better at attacking bacterial cell walls so that it now has three different ways to kill bacteria. The new pharmaceutical has yet to complete human trials. The work has been reported in PNAS… See also below item…
A new class of antibiotics has been found. The new antibiotics were discovered in soil and as such this research builds upon the approach that had success two years ago with the new antibiotic, teixobactin. This new class of antimicrobial is called pseudouridimycin and it stops the bacterium making RNA: other antibiotics impede RNA synthesis (for example rifampin) but not by the same mechanism as pseudouridimycin. The new pseudouridimycin has cured mice with bacterial infections and in bacterial cultures it destroys antimicrobial resistant bacteria. The researchers also have showed that resistance to the new antibiotic develops 10 times more slowly than it does for rifampin. (See Cell, 2017, vol. 169, p1240-1248.). +++ Previous news includes New antibiotic derived from vaginal microbe; New class of antibiotics genetically engineered; and Totally antibiotic resistant bacteria arrive in Britain.
Methicillin Resistant Staphylococcus aureus (MSRA) bacteria evolved before methicillin use! Matthew Holden of St Andrews University (Great Britain) and team genome sequenced 209 strains that were isolated between 1960 and 1989 in both the UK and Denmark. They could then determine how the genes evolved and so could backtrack to ascertain when the mecA resistant gene evolved which they calculate to be in the mid-1940s. Yet methicillin did not enter widespread use in Britain until 1959 with resistance being observed soon after (1960). The team suggests that the use of earlier drugs such as penicillin that are of the same family of β-lactam antibiotics inadvertently selected for S. aureus strains. This is exactly why it is so important that not just new antibiotics are discovered but new classes of antibiotics such as in the previous item. +++ Previous related news includes A new class of antibiotic has been discovered from soil.
First humans in Australia arrived 10,000 years earlier than thought. A research team, led by Chris Clarkson, has dated material found at an excavation at Madjedbebe, a rock shelter in northern Australia. It had been thought that the first Australians arrived by an 'express route' between 55,000 and 46,000 years ago. The Clarkson team has date artefacts from a distinctive stone tool assemblage that include grinding stones, ground ochres, reflective additives and ground-edge hatchet heads. They deduce that human occupation began around 65,000 years ago, at least 10,000 years earlier than had been thought (see Clarkson et al, 2017, Nature, vol. 547, p306-310). There had been some debate as to whether the Australian megafauna extinction from around 55,000 years ago could be attributed to human activities or whether the extinction was due to climate change. Now we know that humans were in Australia 65,000 years ago, it provides more time for a sufficiently significant population to grow and impact on wildlife. The work also means that it was possible for modern humans to have interacted with H. floresiensis.
Neanderthal diets have been inferred from dental plaque DNA . Dental plaque was removed from Neanderthal remains found in Belgium and Spain. The plaque was then DNA sequenced as it contains the remains of the food eaten. This revealed that the Belgian Neanderthal diet was heavily meat based including woolly rhinoceros and wild sheep (mouflon) characteristic of a steppe environment. In contrast there was no meat detected in the Spanish Neanderthals' diet which considered of mushrooms, pine nuts and moss, that is indicative of forest gathering. Interestingly, there was evidence for self-medication by the Spanish Neanderthals for a dental abscess and an intestinal parasite. (See Weyrich et al, 2017, vol. 544, p357-361.) +++ Previous news covered includes 175,000 year-old discovery confirms that Neanderthals were responsible for some of the earliest constructions made.
Earliest Homo sapiens found to date from between 254,000 - 350,000 years ago. Previously, remains had indicated that early modern H. sapiens were present in Africa from about 200,000 years ago. Conversely, DNA analyses of living people and fossils suggest that our lineage diverged from that of our close relatives, the Eurasian Neanderthals and Denisovans, more than 500,000 years ago — much earlier than the first recognisable early modern H. sapiens remains so far found. Now remains (both human and artefacts) from Jebel Irhoud, Morocco, in northwest Africa, and dug up in 1961 and 1962, have been dated by thermoluminescence and uranium isotopes. This means that early modern humans found in east Africa were not alone on that continent as had been assumed. (See Hublin, J.-J. et al., 2017, Nature, vol. 546, p289–292, Richter, D. et al., 2017, Nature, vol. 546, p293–296, and a review in the same issue Stringer, C. & Galway-Witham, J., 2017, Nature, vol. 546, p212-213.) +++ Elsewhere on this site previously covered includes modern humans bred with Neanderthals and remains of possible new human species discovered.
Homo naledi is a new (cousin) species of early human. Remains found in the Dinaledi Chamber of the Rising Star cave system in South Africa between 2013 and 2014. These have now been identified and dated. Homo naledi with its far smaller brain is clearly more primitive than anatomically modern Man (Homo sapiens). Yet the remains date from between 236,000 and 335,000 years old which was the time when anatomically modern humans evolved. So H. naledi represents an earlier offshoot or cousin species of human. They could kind of be considered as a more primitive African equivalent of European Neanderthals, the intriguing thing is that they survived alongside early modern humans for so long. It seems that modern humans, H. sapiens are a 'relic species'; that is to say a species that used to be more diverse in the past and only has one species extant today. (See Dirks et al, 2017, eLife, vol. 6, e24231 and Berger et al, 2017; eLife vol. 6, e24234.)
The cat's history of domestication has been revealed by genome analysis. An international team analysed the genomes of 209 cats from between 8000BC to 2000AD. They discovered two distinct historic populations founded the current population of modern domestic cats Felis sylvestris. The first appeared in the Middle East and spread to Europe as early as 4400BC. A second population in ancient Egypt spread to Europe and the Middle East from the fifth century onwards. The pattern of domestication happens to mirror the establishment of trade routes and the authors suggest that cats may have been used as ship mousers. (See Ottoni, C. et al., 2017, The palaeogenetics of cat dispersal in the ancient world. Nature Ecology & Evolution. vol 1, 0139.) +++ Previous news covered includes dogs were domesticated before agriculture and the ancestors of American dogs could well have come with migrations across the Bering Straight. +++ Ancient dog genome reveals dual origins.
Legally restricting trans-fats reduces the incidence of heart attacks and strokes. Trans-unsaturated fats are rare in nature but are formed when fats are hydrogenated. Trans-fats are often added to processed foods (such as burgers) and oils for frying. Their consumption is associated with increased heart attacks and strokes. Yet some in the food industries – often the larger manufacturing corporations and restraint chains – argue that legally restricting trans-fats will not have a significant health effect. Now, a study of 11 New York counties that restricted trans-fats in restaurants and 25 counties that did not has been published (see Brandt et al, 2017, JAMA Cardiology). It reveals that while the rate of population admissions for heart attacks and strokes has reduced across all counties (New Yorkers are being more healthy), the reduction was 6% greater in those counties that legally restricted the addition of trans-fats. In Britain most of the major food shop chains have a policy of not adding transfats to their own-brand products. However some fast food (especially) burger chains do allow trans-fats – including some well known ones – but others don't; the situation is confused. In the US the situation was until recently even more confused. New York was the first large US city to strictly limit trans-fats in restaurants. However on 17th June 2015, the FDA announced that trans-fats must be removed from prepared foods in the US within three years by June 2018. (Of course, this is the sort of Federal regulation that President Trump abhors, so who knows what will happen.)
Hydrogen in Enceladus plume increases probability of life. Liquid water, possibly up to 6.25 miles (10-km) thick was previously deduced and then water plumes seen. Now Cassini has flown through the plume. The Ion Neutral Mass Spectrometer onboard the Cassini spacecraft detected molecular hydrogen in the plume. The researchers contemplate that the most plausible source of this hydrogen is ongoing hydrothermal reactions of rock containing reduced minerals and organic materials. (See Waite et al, 2017, Science, vol. 356, p155-159.) +++ Hydrogen from hydrothermal vents provides energy for simple prokaryotic life (similar to bacteria) on Earth. From a biological perspective, this discovery makes it highly likely that there may be simple life on Enceladus with the strict provisos that astronomers can confirm that Enceladus has been orbiting Saturn for a long time (many millions of years) as tidal energy from orbiting Saturn will be what generates the geothermal energy. +++ Previous news includes sub-surface water in Enceladus discovered.
Autumn 2017
Astronomy & Space Science News
It's our 30th year, but also it's Cassini's 13th and final one
Below a tip of the hat to the first detailed mission
to explore the Saturn system
Previous Cassini news in SF² Concatenation
Looking forward to Cassini arrival
Cassini enters Saturn orbit
Cassini Saturn pictures stunning
Looking forward to Cassini and ESA's Huygens Titan lander
ESA's Huygen lands on itan
Cassini finds hydrocarbon lakes on Titan
Cassini pictures Saturn's far side
Cassini finds big hydrocarbon sea
Saturn's rings darkening and expanding
Sub-surface water in Enceladus discovered
Cassini may detect 9th planet Phattie
Dione may have a sub-surface ocean
First rocket launch from New Zealand. The US private company Rocket Lab has launched a 56-foot (17m) rocket from the Mahia Peninsula, on the eastern side of New Zealand's North Island. The launch was part of New Zealand's aspiration for a space port. New Zealand has the advantage of launches trajectories going out over the ocean away from populated areas as well as injecting satellites into north-south, polar orbits that are favoured for close Earth observation as the Earth rotates beneath such orbits so the entire planet is covered. (Equatorial orbits leave a polar zone unobserved.)
India has launched its largest rocket yet. The GSLV Mark II,I 640-tonne craft (is capable of delivering payload o more than three tonnes into geosynchronous. (For comparison, NASA's Saturn V is four times as big.) India hopes to have an astronaut by 2024.
Water plumes on Europa a repeat observation confirms. The Hubble Space Telescope has again captured images of plumes from the ocean beneath its ice surface. It is from the same feature that plumes were seen two years ago (see Sparks et al, 2017, Astrophysical Journal vol. 839, LL18). As with Saturn's moon Enceladus, Jupiter's moon Europa could harbour life. +++ Previous news, two years ago, includes a plume of water detected from Ceres.
Doubts about Phattie, the Solar System's planet 9. Alas the evidence does not continue to mount. The clustering of orbital planes of distant minor planets along with peculiar tilt to the Sun's spin axis had been suggestive of a planet 9. Now, four more distant minor planets have been found but they do not fit the pattern suggestive of the presence of the ninth planet Phattie. (See Science 2017, vol. 356, p1221.)
10 potentially habitable exo-Earths found in the mid-summer's tranche of Kepler data analyses. 219 potential planet candidates have been discovered, 10 of which are both reasonably Earth-like and in the habitable zone. The candidates were detected in a final batch of NASA's Kepler Space Telescope survey of some 200,000 stars in the Cygnus constellation. Kepler has so far detected 2,335 confirmed planets plus an additional 1,699 candidate worlds, so making a potential total of 4,034. Around 50 of these may be Earth-like and in the habitable zone. In addition to Kepler, there have been other surveys including ground-based ones. Include these and so far nearly 3,500 exo-planets have been detected. An analysis of the data to date has resulted in a demarcation line between two planetary types. Planets up to around 1.75 times the size of Earth tend to be rocky like the Earth: planets between 2 to 3.5 times the size of Earth become gas-giant like small Neptunes. The former that are up to 1.75 times the size of the Earth are called 'super-Earths', while the latter 2 to 3.5 times the size of Earth are known as 'mini-Neptunes'. +++ Previous news includes Light from a Super Earth has now been detected and 10s of billions of Super-Earths in Galaxy and around a billion in the Goldilocks liquid water zone.
A super exo-Earth has been found in a star's habitable zone. A super-exo-Earth with a mass 6.6 times that of the Earth and radius 1.4 that of Earth's, has been detected orbiting the red dwarf LHS 1140 which is 39 light years away. It receives energy from its sun (insolation) 0.46 times that of Earth placing it within the liquid water habitable zone. Given its large gravity (which would help retain gases) and reduced insolation (which would reduce atmosphere erosion) it is likely to have retained its atmosphere. This in turn would confer a natural greenhouse effect and so increase the chances of liquid water on its surface (imagine Mars warmed by a thicker atmosphere). (See Dittmann et al, 2017, Nature, vol. 544, p333-340.) +++ This adds to the recent discovery of an exo-Earth around Proxima Centauri 4.26 light years away, and 1.3 times the mass of the Earth, last season.
ESA's Schiaparelli Mars lander was not properly prepared says official report. The European lander came in too fast. The official report following an investigation suggests that the software was not properly tested ad the probe could not process data fast enough during its descent compounded by a poor sensor. Inadequate testing and poor liaison with sub-contractors along with poor modelling of the descent are blamed for the catastrophic 'landing' (or, to be technical, 'crash').
Yet another gravity wave detection suggests a new class of black hole. The US laser interferometer gravity observation collaboration (LIGO) has had a third confirmed detection of two merging black holes (GW170104). At nearly 3 billion light years from Earth, the black holes are the farthest ever detected. An interesting feature in the latest signal: The spin of at least one of the black holes may have been "anti-aligned" with the orbital angular momentum — the direction in which the black holes were orbiting each other. This may indicate what is called 'dynamical capture', in which black holes evolve separately in a cosmic environment cluttered with stellar objects. In such an environment, black holes with various spins can eventually pair up in binary systems, simply through gravitational, "dynamic" attraction. 'Dynamical capture' runs counter to the "common envelope evolution" model in which binary black holes evolve together so sharing angular momentum and then merge. Also the three LIGO detections point to a population of stellar-mass binary black holes that, once merged, are larger than 20 Solar masses (a Solar mass being the mass of our sun). Conversely, the x-ray astronomy detected black holes have so far been less than 20 Solar masses. (Of course, black holes in the centre of galaxies are far more massive than that.) +++ News of LIGO's first detection here.
Autumn 2017
Science & Science Fiction Interface
Report into SeΧ bots concludes that there is a market and that there could be benefits but equally there are concerns. A report, Our SeΧual Future with Robots, has been produced by the Netherlands based Foundation for Responsible Robotics. It notes that the proportion of the population prepared to use such robots lies roughly between a tenth and half the adult population. It cites a number of benefits as well as raises a few concerns. The report presents summary of the issues and various opinions about what could be our most intimate association with technological artefacts. It does not contemplate or speculate about far-future robots with personhood – that could have all manner of imagined properties. It focuses instead on significant issues that we may have to deal with in the foreseeable future over the next 5 to 10 years. +++ See also a related Nature editorial AI Love You.
Austral is a new SF novel set on a climate change warmed Antarctic Peninsula. The book's pre-publication distribution in July was coincident with a science research paper forecasting a climate change warmed Antarctic Peninsula. Austral by Paul McAuley concerns a modified human living on the future, globally-warmed, Antarctic Peninsula. Now, some SF predicts science fact largely because much SF is based on science fact albeit a reasonable extrapolation. Austral is one such instance and the novel's pre-publication, promotional copy distribution in July was coincident with a paper in the journal Nature on the new, ice free land likely at the end of the century if global warming continues (as is almost certain). The paper by J. R. Lee and colleagues, titled 'Climate change drives expansion of Antarctic ice-free habitat', notes that currently 99% of Antarctica is ice-bound with just 1% ice-free. With warming under a business-as-usual scenario (the IPCC's RCP8.5) and a slightly lower emission scenario (RCP4.5) there is a considerable expansion of ice-free land and in both cases this is on the Antarctic peninsula by the end of the century.
Under the warmest (RCP8.5) scenario, ice-free areas could expand by over 17,000 km² by the end of the century, close to a 25% increase. Most of this expansion will occur in the Antarctic Peninsula, where a three-fold increase in ice-free area could drastically change the availability and connectivity of biodiversity habitat. Isolated ice-free areas will coalesce, and while the effects on biodiversity are uncertain, the researchers hypothesise that they could eventually lead to increasing regional scale biotic homogenization (ecosystems become similar), with the extinction of less-competitive species and the spread of invasive species. (See Lee, J. R., 2017, Nature, vol. 547, p49-54.)
This SF novel being coincident with academic research once again demonstrates the link between science fact and science fiction (or the dance between science fact and science fiction as Carl Sagan put it). In this case the novel's hypothesised future environmental setting mirrors the both the interest and expectations of science researchers. +++ For more on Austral see the item on the Orion BlogFest in the above Publishing & Book Trade section.
Harry Potter connected to an increase in owl trade. A survey of 20 bird markets in Indonesia reveals that trade of an estimated few hundred in 2001 has risen to 13,000 in 2016. The researchers feel that there is a connection with Harry Potter's huge following. Especially as owls are now known locally as 'burung Harry Potter'. This research (Nekaris et al, 2017, Global Ecology Conservation, vol. 11, p84-94) echoes a previous 2015 study by the NGO Traffic that came to a similar conclusion. Harry Potter was first translated into Indonesian in 2000 with the first film dubbed in 2001. The owl trade is technically illegal in Indonesia as there are no official catch quotas. The government does not seem to recognise the concern and has no policy.
Most Earth-like planets may be water worlds. Fergus Simpson of Barcelona University argues on Bayesian (statistical probability) basis that most Earth-like exo-planets will be water worlds or at least over 90% water based on models of planetary system formation. Such land-less (or substantive land minority) worlds would not be likely to produce terrestrial hence intelligent multicellular life. (See Monthly Notices of the Royal Astronomical Society, vol. 468, p2803-2815.) +++ SF² Concatenation discussion: We do not have a research astronomer on the team and so cannot speak to the likely accuracy of astronomers' models of planetary system formation; though we do note that the discovery of the disparate nature of exo-planetary systems the past decade has necessitated astronomers to revise their models which, as it happens, under the grand tack theory suggests that the Earth should be far more watery than it is. However, we note that according to physics of a world with connected oceans (which includes Earth and all water worlds) that their orbits would be more circular than worlds where the water was confined effectively to large lakes or a single sea. (Carl Sagan predicted that there would be no large ocean of methane on Titan, decades before we sent a probe there, but at the most a small sea. (Dermott S. F., Sagan C., 1995, Nature, vol. 374, p238)) Also one aspect of the new biosphere science or Earth system science theory of co-evolution of life and planet suggests that we possibly would not get a high oxygenated atmosphere on a total water world: exposed or nearly exposed hydrothermal vents (forget the deep sea vent jobbies) and land for silica erosion are required. Fortunately, the new generation of space telescopes beginning with the like of James Webb should give us a better handle on both exoplanets' eccentricities (orbit circularity) and atmospheric composition. This would provide hard data from which to base a more sound Bayesian argument on the likelihood of water world exo-Earths. In short, Simpson's paper is rather interesting but, without more data, too speculative.
We may not detect alien radio signals even if the Galaxy is teeming with intelligent life. A thought experiment by Claudio Grimaldi of Switzerland's Ecole Polytechnique Fédérale de Lausanne, concludes that due to directionality (their transmitters and our receivers need to be aligned) distance, and duration, we are not guaranteed to detect a signal even if the Galaxy is teeming with intelligent life. The corollary of his reasoning is that if, indeed, we do detect such a radio signal then there must be very many intelligent civilisations in the Galaxy. (See Grimaldi, C. 2017, Scientific Reports, vol. 7, 46273.)
An entire world might easily be cloaked by shy aliens astronomers contemplate. David Kipping and Alex Teachey of the Department of Astronomy, Columbia University, contemplate that a star's planetary system that harbours a technological civilisation whose planetary ecliptic plane lines up with our Sun could shield its presence from us with lasers. This would mask the planets atmospheric signature as well as its shadow should we try to detect it using the star transit method whereby the planet comes between its parent star and us. They calculate that a chromatic cloak, effective at all wavelengths requires a large array of tuneable lasers with a total power of 250 MW. Alternatively, a civilization could cloak only the atmospheric signatures associated with biological activity on their world, such as oxygen, which is achievable with a peak laser power of just 160 kW per transit. This is technology with which we already easily have. (This paper came out at the end of last year but only now has come to our attention. See MNRAS, vol. 459, p1233–1241).
Quantum entanglement record smashed via satellite to 750 miles (1,200 km). Chinese researchers, using the Micius satellite (launched last year) used an onboard ultraviolet laser to entangle photon pairs and sent one of each pairs to a ground station 750 miles from another ground station to which the other half of the pairs was sent. Entanglement was maintained. This paves the way for using quantum entanglement for communications encryption (and the Chinese are currently in the lead to get their first). (See Yin et al, 2017, Science, vol. 356, p1140-1144.). +++ See previously from 2015 Quantum entanglement (action-at-a-distance) gets most rigorous test yet, and from 2014 Faster-than-light communication naysayers further confounded by robust, long-lived and high fidelity entanglement reading (in other words the instant teleportation of quantum states).
Negative mass/energy discovery shows the way to a real stargate. To make a wormhole practical for use – that is to say not to have its width only at an atomic quantum level length – both its ends need to be held open. Here the physics theory is quite clear: you need negative energy or mass to do this. In theory, matter can have negative mass in the same sense that an electric charge can be positive or negative. (Note: negative mass is not antimatter and antimatter has positive mass.) Here, it had been thought that the physics theory would always remain physics theory, as negative mass or negative energy was considered purely a hypothetical state not found in reality, and so practically functioning stargates could never be built. Yet it appears that this may not be so. Peter Engels, from Washington State University, and colleagues cooled rubidium atoms to just above the temperature of absolute zero °K (close to -273°C) creating a Bose-Einstein condensate. They then used lasers to trap the rubidium atoms and to move them to and fro, and changing their quantum state. When the atoms were released, their spin-orbits expanded with some exhibiting negative mass properties. With negative mass, if you push something, it accelerates toward you, and it looks like the rubidium hits an invisible wall. (See Khamehchi et al, 2017, Physical Review Letters, vol. 118, 155301.)
Shades of John Brunner's The Shockwave Rider (1975) with a global computer virus pandemic affecting many hundreds of thousands including rail station and hospital computers. John Brunner's novel not only featured what is effectively the internet some two decades before the real thing began to vaguely impinge on the public's consciousness, but it featured computer viruses delivering malware (although it referred to them as 'phages' which in real-life biology relate to viruses that infect bacteria).
The May (2017) virus, called WannaCry, contained malicious software that locked computers' data away and demands a payment of up to US$300 (£230) a time from computer owners before it would restore the files. It was spread across 150 countries by a virus known as a 'worm' (again not that hugely distant from Brunner's novel). It affects only Microsoft Windows computers: the most common type of computer.
In addition to individuals a number of organizations were affected including: Britain's NHS (National Health Service), Germany's rail network Deutsche Bahn, Spanish telecommunications operator Telefonica, US delivery service FedEx and Russia's interior ministry.
A patch to close this virus had been available since 14th March (two months earlier) but many people and organisations failed to apply it in time.
Microsoft has issued a free security update to Windows XP, Windows 8, and Windows Server 2003.
All well and not-so-good, but SF² Concatenation's Gaia wonders, given the world was facing a malicious, global cyberspace attack, where on Earth when we needed him was Doctor Who?
Artificial Intelligence (AI) retires from playing GO after defeating World Champion. Google's DeepMind AlphaGo artificial intelligence has defeated the world's champion Go player, Chinese Ke Jie. This is further to last year AlphaGo beat the South Korea's world champion Lee Se-dol four out of five games. The researchers are retiring DeepMind from Go so as to concentrate on developing applications.
An Iron man flight suit has been developed. A Brit engineer, Richard Browning, has built what he calls the Daedalus suit - named after the father of Icarus. The pilot uses his arms, on which there are engines, to point jets of air downwards so providing lift. See the suit in action here.
Evolution to be dropped from school curricula in a Ministry of Truth style proclamation. No, not George Orwell's 1984 SF novel's Ministry of truth but Turkey's education ministry who have announced that, from this September (i.e. now), the concept of biological evolution will be dropped from Turkey's high-school curricula. Apparently, it is too 'controversial' and too 'complicated' for Turkey's school pupils. We at SF² Concatenation are fairly confident that this says more about Turkey's politicians than it does the intellectual capabilities of that nation's school kids. (Turkey's Science Academy – the equivalent to Britain's Royal Society or the US's National Academy of Science – is not happy.) Turkey's education ministry has also reduced high-school biology teaching from three hours per week to two hours; conversely religious instruction has been increased from one hour to two hours. Well, let's face it biology is only important if kids grow up to lead a life necessitating food, farming, nutrition, medical, environmental conservation etc., skills and/or knowledge base. Conversely,…
Predatory journals hit by 'Star Wars' sting. (For non-scientists, first here is an explanation of a predatory journal. All research scientists need to get their work published in a peer-reviewed journal if they are to continue to receive funding. However, peer-review relies on experts giving time and experts who have the support of a scientifically trained editorial team. But the latter incurs a considerable financial cost to the publisher and it takes time (years) for a journal to build up a following. So in recent years some publishers have decided to enter academic publishing but to skimp on the editorial and peer-review processes. Many charge the researchers a publication fee. These journals soon become recognised for what they are by respectable researchers and so they get less work submitted to them for publication and so they resort to things like spamming to attract attention and get material. With few submissions, and low science editing and peer review, their quality is quite laughable. And so from time to time fun is had at their expense. This story concerns the latest such incident.) The blogger Neuroskeptic of the Discover magazine blogs, under the name of George McLucas, submitted a made up research paper littered with numerous Star Wars references and deliberate technical word gross misspellings. Four journals accepted Neuroskeptic's fake paper and three of which actually published the paper even though Neuroskeptic did not pay the publication fee. Some journals, who might consider to be borderline predatory, did reject the paper and some referees spotted the Star Wars content. As Neuroskeptic points out, this does not mean that science is broke. Proper peer-reviewed science journals continue to do a fine job and only very rarely slip up, and when they do they nearly always publish a correction or even a retraction. But it does no harm to continue to expose predatory journals so that young researchers and post-doc students who have yet to make a few turns around the block are aware of who and what they are. Also such japes are a bit of fun for the rest of us.
Autumn 2017
Rest In Peace
The last season saw the science and science fiction communities sadly lose…
Brian Aldiss, the British SF Grandmaster, has died aged 92. Brian was equally at home writing mainstream mundane fiction as exotic speculative fiction, and so was respected by both the mainstream and SF communities. He also wrote non-fiction, including a travel guide to (the now former) Yugoslavia following a visit to an SF event. He was the winner of two Hugos, one Nebula, and a John Campbell Memorial Award. He invented a form of extremely short story called the 'mini-saga' and run a mini-saga competition for The Daily Telegraph but is perhaps better remembered for being a champion of 'New Wave' science fiction. His first SF novel was Non-Stop and while he wrote over a score of SF novels, he wrote numerous short stories that have recently been collected into decadal volumes by The Friday Project starting with The Brian Aldiss Collection –The Complete Short Stories: The 1950s. He is especially known in SF circles for his 'Helliconia' series of books (1982-5) concerning a planet in an eccentric orbit with each book in the series relating to a season. He is also known for his SF non-fiction Billion Year Spree: A History of Science Fiction (1973) and its subsequent expansion (with David Wingrove) A Trillion Year Spree that surveyed the genre: the latter won a Hugo for non-fiction. Arguably his most notable work as far as the general public are concerned, was the short story 'Super-Toys Last All Summer Long' (1969) as the cinematic rights was bought by Stanley Kubrick for whom Brian Aldiss wrote a screenstory (which Kubrick did not take to). This was subsequently brought to the big screen by Steven Spielberg as the film A.I.. Brain was into the arts and drew as well as having a fondness for drama: notably he performed a play he wrote (co-starring with Ken Campbell) Science Fiction Blues. Brian was a fan of H. G. Wells and was a Vice-President of the British-based H.G. Wells Society (not to be confused with other H.G. Wells Societies). He was also co-President, with his great friend Harry Harrison, of the Birmingham SF Group (which also runs Britain's Novacons). With Harry, Brian co-edited the magazine Science Fiction Horizons starting in the 1960s and also nine volumes of The Year's Best SFto 1975. Indeed, he was a lifelong close friend with Harry as well as Sweden's Sam Lundwall: the three close friends were all GoHs at the 199 Eurocon. He was awarded the Order of the British Empire (OBE) in 2005. Alas there is not enough space here to do the man justice, such was his contribution to SF.
+++ See also:-
Brian receives the European Utopiales prize for lifelong contribution; Brian on Desert Island Discs; Brian on global warming and Non-Stop possibly to be a film; Brian in Locus magazine; Brian interviewed by Nature; Brian at Dubai's inaugural Arab literary festival; Brian on BBC Radio 4 Today programme; Brian and Harry GoHs at 40th Novacon; Brian garners SFX Award for Outstanding Literary Contribution; Brian awarded European SF Grandmaster; Brian interviewed by BBC Radio 4's Front Row; Brian talks about Doris Lessing on BBC Radio 4's Last Word; Brian not well in run-up to 2014 Worldcon; Brian sung 'Happy birthday' to at 2014 Worldcon; and Brian's 'The Friday Project' launched.
Edmund Bagwell (a. k. a. Edmund Perryman) , the British comics artist, has sadly died of pancreatic cancer aged just 50. Also known for his animation and computer graphics work, he worked for Marvel UK and then 2000AD including an early contribution to the Judge Dredd Mega-Special (1992) as Edmund Kitsune. His 2000AD work additionally included on The Ten Seconders and Indigo Prime.
Geoffrey Bayldon, the British actor, has died aged 93. He appeared in several horror films including Dracula and Frankenstein Must Be Destroyed for Hammer Film Productions as well as The House That Dripped Blood, Asylum and Tales from the Crypt not to mention an episode of a Tom Baker Dr Who as Organon in 'The Creature from the Pit' (1979). In addition he was in Space 1999 (1976), The Tomorrow People (1976), Tales of the Unexpected (1980, 1983) and The Chronicles of Narnia (1989). But he is perhaps best known for playing the title role of the children's TV series Catweazle, a medieval wizard transported to the 20th century. The opening scenes of first episode of Catweazle in which he thinks he has flown to escape pursuers but in fact has been transported through time can be seen here.
Michael Ballhaus, the German cinematographer, has died aged 81. His genre-related work includes Bram Stoker's Dracula (1992), Wild Wild West (1999) and What Planet Are You From? (2000).
Michael Bond PhD (Hon.) OBE CBE, the British juvenile fantasy writer, has died aged 91. has died aged 91. Though he wrote over a score of adult 'Monsieur Pamplemousse' novels (1983 – 2015) – about a French detective turned food critic – he is best known for his children's fantasies including the 'Olga da Polga' books and he created the TV series The Herbs. But above all he will be remembered for his 'Paddington' novels about an unassuming immigrant bear from Peru with a fondness for marmalade. These have sold over 35 million copies. There has been a Paddington television series and two films in the first of which he had a brief cameo appearance. There is a stature of the bear at London's rail terminus serving the west of Britain, Paddington station.
Angela Brodie, the British born biochemist has died aged 82. She developed the first selective aromatase inhibitor, a drug that prevents the synthesis of oestrogen and so saved the lives of hundreds of thousands of women. Oestrogen spurs breast cancer and back in the 1960s pharmaceutical treatment involved drugs that blocks the action of oestrogen (not its synthesis). Having worked as a research assistant in the early '60s in a Manchester (Britain) hospital, she began her lifelong ambition to tackle breast cancer. She then met her organic chemist, US husband and moved to the States where together they developed 4-hydroyandrostenedione (4-OHA): the first pharmaceutical to inhibit oestrogen synthesis without inhibiting the body's natural synthesis of other compounds. With the help of a British oncologist, 4-OAH was eventually, as formestane, marketed by the European Ciba-Geigy to help postmenopausal women who are at high risk of breast cancer.
Gregg Calkins, the longstanding US fan, has died aged 82 following a fall. He was a Utah fan who later moved to Costa Rica and whose zine was Oopsla (1952-1961). He was Fan GoH at Westercon 29 in 1976.
Jeff Carlson, the US author, has died aged 48. He is know for his Plague year trilogy (2007 – 2009), the first of which was shortlisted for the Philip K. Dick Award. His novel Frozen Sky (2012) was expanded from an earlier novelette (2007) that won the Writers of the Future annual competition. Wikipedia says that he is rumoured to have been collaborating on a new SF series with David Brin. He has left us much too early and would have undoubtedly given us more SF.
Louis Charbonneau, the US author, has died aged 93. His novels include: the dystopic No Place on Earth (1958),the alien invading Corpus Earthling (1960), the dictatorial future dystopicThe Sentinel Stars (1963) and the technothriller cyberpunkish Intruder (1979). He also scripted two episodes of The Outer Limits (1963-1965).
Richard Dalby, the British, supernatural horror anthology editor and bookdealer, has died aged 68. In 1993 he co-founded the Ghost Story Press. His specialties were supernatural fiction, 19th century literature, children's books and illustrators, and detective fiction, especially Arthur Conan Doyle and Agatha Christie.
Howard Eichenbaum, the US neuroscientist, has died aged 69. His work was largely focussed on memory function and he derived a theory as to the role of the hippocampus part of the brain in forming relational memories.
Howard Frank, the US computer scientist and fantasy art collector, has died aged 75. He was the Assistant Professor of Engineering and Computer Science at the University of California before moving into private sector including heading up Contel Information Systems and then Network Management Inc. He was inducted in 2013 as a 'Pioneer' to the Internet Hall of Fame for fundamental contributions to the development of the Internet, and was recipient of the Department of Defense's highest civil honour, a Presidential Distinguished Service Medal. He was also known in genre circles for his interest in fantasy art which he and his wife collected, and with whom he co-authored two books on the subject.
Marian Diamond, the, the US neuroscientist, has died aged 90. She was the first to demonstrate brain plasticity. Using environmental changes, she showed that rats brains change: up to then it was thought that the genome was solely responsible for shaping an individual; we now it is a mix of genes and environment, or nature as well as nurture.. She also examined Albert Einstein's brain finding that it had an unusually higher number of glial cells that up till then had thought to be solely concerned with structural support but are no also known to provide nutrients to neurons.
Stephen Furst, the US actor, has died aged 63. In SF terms he is best known for playing as Centauri diplomatic attaché Vir Cotto in the science fiction series Babylon 5 from 1994 to 1998.
James E. Galton, the US comics publisher, has died aged 92. he is best know for his work with Marvel Comics for which he became Group president in 1975. he retired from Marvel in 1991.
Tobe Hooper , the US director, has died aged 74. Though best known for the slash horror The Texas Chain Saw Massacre (1974) and the fantastical horror Poltergeist (1982), in genre terms his most significant offerings were Lifeforce (1985) (trailer here) based on the Colin Wilson novel The Space Vampires (1976) and Invaders from Mars (1986) (trailer here) both screenplayed by the legendary Dan O'Bannon. His last genre contribution was Djinn (trailer here).
Marie Jakober, the Canadian author of The Mind Gods, has died aged 76.
David Jones, the British organic chemist, has died aged 79. He wrote wry columns for both New Scientist and Nature using the pseudonyms Ariadne and Daedalus. As Daedalus he mused that carbon hexagon polymers could be assembled into balls years before buckminsterfullerene was discovered garnering its discoverers (Richard Smalley and Harry Kroto) a Nobel Prize. He also is known for deducing that Napoleon was poisoned by Arsenic from his wall paper. With regards to SF, as Daedalus he wrote about bizarre inventions and technological implications. These were compiled into a book The Inventions of Daedalus: A Compendium of Plausible Schemes (1982). His final Ariadne column included a news piece (submitted by the 1990 Eastercon press officer now an SF² Concatenation team member) on that year's British Eastercon that began the day after that New Scientist edition hit he newsstands (the first and only time the Eastercon was mentioned in the column). Those few lines brought an additional score of walk-in registrants bringing its membership up to 1,006.
Dwain Kaiser, the US science fiction & fantasy book dealer, has died aged 69. He was a longstanding member of the Los Angles SF Society and ran the 'Magic Door Used Books' shop in Pomona. He was apparently shot by a teenager flat sharer who lived with his mother and Dwain and his wife. Dwain was well known in US fandom. Most tragic.
Jordin Kare, the US physicist and SF fan, has died aged 60. He was responsible for Mockingbird, a design for an extremely small (75 kg unfuelled) reusable launch vehicle, and was involved in the Clementine Lunar mapping mission. He is well known in US fandom for his filk activities in addition to his science talks. He was an editor of The Westerfilk Collection: Songs of Fantasy and Science Fiction. An astrophysicist with his name can be found in the SF novels War of Honor and Torch of Freedom by David Weber. A physicist by his name (and his wife, Mary Kay) is featured in Callahan's Touch by Spider Robinson. His song 'Fire in the Sky' is mentioned in the novel Fallen Angels by Larry Niven, Jerry Pournelle, and Michael Flynn.
Martin Landau, the US actor, has died aged 89. In addition to many mundane cinematic roles (including in North by Northwest (1959)) his SFnal appearances included: The Outer Limits series (1963 and '4); The Twilight Zone series (1959, 1964 and 1985); co-starring in the techno-thriller series Mission: Impossible (1966 – '69); Meteor (1979); The Return of the Six-Million-Dollar Man and the Bionic Woman (1987); 12.01 (1993) (the hard SF thematic treatment of Groundhog Day); and the lead in the mundane-SF crossover Ed Wood (1994) for which he won a Best Supporting Actor Oscar; playing Scorpion in several episodes of Spiderman TV series (1995 – '6)' and the The X Files (1998). But for some of us he will always be remembered for starring as Commander John Koenig in Gerry Anderson's Space 1999 (1975 - '77). Space 1999 opening credits here. In Hollywood and Trekkie fandom he is also know for having turned down the role of Spock in Star Trek which, as we know went to his friend and Mission: Impossible co-star Leonard Nimoy.
Joan Lee, the British born comic hero co-creator, has died aged 93. The wife of Stan Lee for 69 years co-created with him many superheroes including Spiderman and the X-men. She had a cameo on the recent X-men: Apocalypse and was the voice of Miss Forbes in the Fantastic Four (1994) animated series and Madame Web in the Spider-Man animated series (1996-'98).
Rodney Leighton, the Canadian, longstanding fanzine fan, has died aged 68. Paper zines were his medium but a number have been digitised and are on e-Fanzines.
Maryam Mirzakhani, the Iranian born, US resident mathematician, has died aged 40 of breast cancer. Her work focussed on moduli spaces of Riemann surfaces. Her maths prowess was obvious from her school days when, in 1994 and 1995 International Mathematical Olympiads, she became the first Iranian pupil to win two gold medals. Following her postgraduate studies, she entered research and was a pioneer in hyperbolic geometry, topology and dynamics. She was the first woman and first Iranian to win the Fields Medal, mathematics highest honour. Maths has lost a dazzling light much too soon.
Roger Moore, the British actor, has died aged 89. He was well known for his cult TV roles especially playing the lead in medieval Ivanhoe (1958–'59) and famously the 1960s adventurer The Saint (1962–'69). He jointly starred (with Tony Curtis) as 1970s wealthy adventurers The Persuaders that was hugely successful in Europe but less so in the US (it is somewhat dated by today's viewing standards but this is more a reflection of 1970s class based, male-dominated society than any fault of the show's producers. But he is perhaps best known for being the third, and longest running actor playing, James Bond (1973-'85) the British secret agent whose genre connection is that the films often had a technothriller riff. The most SFnal of these was Moonraker (1979) that saw an attempt to wipe out the human race save for a villain and his genetically pure followers who would ride out the apocalypse in an orbiting space ark. But nearly all Moore's Bond films had some technothriller if not outright SF trope: The Man with the Golden Gun (1974) a solar energy device; The Spy Who Loved Me (1977) an underwater base; and A View to a Kill (1985) geo-engineered terrorism. In 2004, Moore was voted 'Best Bond' in an Academy Awards poll, garnering 62% of votes. Other than Bond technothrillers, More's most SFnal film was probably The Man Who Haunted Himself (1970). A number of his friends and colleagues attribute the invention of the Magnum ice cream to him. He became a UNICEF Goodwill Ambassador in 1991. Roger Moore submitted the manuscript for his final (non-fiction and as yet untitled) book two weeks prior to his demise.
Haruo Nakajima, the Japanese actor has died aged 83. He is famous for his playing Godizilla, wearing the monster suit and stamping over model Japanese cities in a dozen titles including the 1954 original film.
Barry Norman, the British film critic, has died aged 83. He was best known for presenting BBC One's Film… [insert year]' from 1972 to 1998, the show which he said had the best theme tune. Any Brit lover of cinema, be it SF or otherwise, aged between 40 and 60 surely knows of Barry. It has to be said that he had a bit of a blind spot regarding SF but as soon as you were aware of this you could translate his reviews. So if he said that and SF film was enjoyable but 'too complex', as he did with Back to the Future II you knew that that offering was one to seek out. He also contributed film columns for The Observer and Guardian as well as the BBC's Radio Times, 'and why not?' In 2003 his autobiography was published And Why Not?: Memoirs of a Film Lover.
Ama Patterson, the US short story writer, has died aged 56 sadly of ovarian cancer. She also served as a judge for the 2001 Tiptree Award.
Kim Poor, the US space artist, has died aged 64. His work is hugely respected and has appeared in Omni, Science Digest, Discover, Astronomy, Sky & Telescope, Germany's Kosmos, and the Russia's popular Ogonjok. His work has been displayedin many places, notably including in the Yuri Gagarin Museum in Star City, Russia. This last was one of the first practical instances of Gorbachev's glasnost, and resulted in an on-going series of cooperative ventures between Russian and American artists. He co-founded the IAAA, the International Astronomical Artists Association, and was its first President.
Jerry Pournelle, the US engineer and SF author, has died aged 84. As an engineer he worked for Boeing in the late 1950s and while there worked on Project Thor. This led him to defense work in the 1960s. In 1964 he was awarded a Bronze Medal from the American Security Council. His politics have been described as far right, but in 1969 he worked as campaign research director for the mayoral campaign for Los Angeles Mayor Sam Yorty (Democrat). He took an interest in space matters and, given his political activities, it was not surprising that he contributed to President Reagan's Space Defence Initiative in the early 1980s. He is also noted in the 1980s for his journalism on the then embryonic sector of home computing. He spent some time in the '80s as the editor of a survivalist magazine. With regards to SF, he wrote over a dozen SF novels mainly of a military SF nature and won the John W. Campbell Award for Best New Writer in 1973. But, he is perhaps most famous for his collaborative work, especially with fellow US author Larry Niven. Here of note are their joint novels: the Hugo-nominated (short-listed) The Mote in God's Eye (1975) an intriguing first contact story in an isolated star system whose dominant species are trapped in a Malthusian boom-bust cycle; and Lucifer's Hammer (1977) about an impending asteroid impact. 1993 saw the publication of a sequel to The Mote in God's Eye with The Moat Around Murcheson's Eye (published in the US as The Gripping Hand). His other collaborative novels included those with S. M. Stirling and Roland J. Green. He also edited several anthologies including Nebula Award Stories Sixteen (1982) with John F. Carr. His other awards include a Robert A. Heinlein Memorial Award 'for lifetime achievement in promoting the goal of a free, space-faring civilization'. Mid-life he had to spend time combating a personal demon, and in 2008 he successfully overcame a brain tumor, but in 2014 suffered a stroke that subsequently somewhat hindered his typing. He died of con-flu following Dragon Con.
George A Romero , the US film director has died aged 77. His genre films include Martin (1978) and Creepshow (1982). But he was best known for his re-inventing zombies not, as had been, voodoo resurrections but due to an ill-defined science-based contamination, with the classic horror Night of the Living Dead (1968) (trailer here) that was followed by five sequels and two remakes. Romero did have other cinematic ideas but Hollywood refused to fund them, urging him to continue making zombie films. Film and horror buffs today still consider zombies in terms of before and after Romero. Other notable genre films included The Crazies (1973) among other fantastical horrors.
Anne Rubinstein, Philip K. Dick's third wife, has died aged 89. She was married to Dick between 1959 and 1965. She authored the memoir The Search for Philip K. Dick (2010).
Peter Sallis, the British actor, has died aged 96. He is most famous for his role in the longstanding sitcom Last of the Summer Wine and earlier playing the lead in The Diary of Samuel Pepys. In genre terms he had a bit part in Stranger from Venus (1954) (a poor person's The Day the Earth Stood Still) but was well known for being the voice of Wallace in the 'Wallace and Gromit' Nick Park animations that had a definite SFnal riff with tropes such as rocket travel to the Moon, robots, automation and Heath Robinson style gadgets. See Wallace & Gromit - A Grand Day Out (1989) Trailer.
Ernest Soulsby MRCVS DVSM PhD CBiol HonFIBiol, has died aged 90. Professor Baron Lord Soulsby of Swaffham Prior, was a distinguished vet and the first to become a Life Peer of the House of Lords. He served terms as President of the Royal Society of Medicine as well as President of the Royal College of Veterinary Surgeons: the only person to date to have served as President to both these bodies. He was a professor of parasitology at the University of Pennsylvania (he was a specialist on nematode parasites and was known as King of the Worms), before moving to the University of Cambridge as dean and professor of animal pathology. He was a visiting fellow or professor at institutions in Australia, Poland, Austria, Nigeria, Germany and the West Indies. He was also the veterinary surgeon to Her Majesty Queen Elizabeth II. In addition to parasites, he was concerned in the 1990s with the rise of antibiotic resistance long before it was a significant issue on the nation's political agenda. Aside from numerous articles and some science papers, he authored 14 books.
Robert Taylor, the US mathematician and psychologist, has died aged 85. He never took a PhD in psychology as that necessitated his having taken courses in the soft areas of the discipline whereas he was interested in its interface with hard science (biology) and maths. He ended up carving a career for himself in computing and computer networks. He was director of ARPA's Information Processing Techniques Office from 1965 through 1969, founder and later manager of Xerox PARC's Computer Science Laboratory from 1970 through 1983, and founder and manager of Digital Equipment Corporation's Systems Research Center until 1996. His awards include the National Medal of Technology and Innovation and the Draper Prize. His paper "The Computer as a Communication Device" (1968), co-authored with J. D. R. Licklider, effectively predicted the future of what the Internet would eventually become.
Len Wein, the US comics artist, has died aged 69. He had a prolific career both with Marvel and DC Comics. He is perhaps best known for co-creating (with Bernie Wrightson) Swamp Thing. In 1998 he ws shortlisted for the Bram Stoker Award from the Horror Writers Association.
Adam West, the US actor, has died aged 88 of leukaemia. He had featured in a number of SF/F offerings including: Robinson Crusoe on Mars (1964), Curse of the Moon Child (1972), Time Warp (1981), Warp Speed (1981), Zombie Nightmare (1987), Omega Cop (1990) and An American Vampire Story (1997). However he was very famous for playing the role of Batman in the US television series (1966 – '68). This was certainly the most tongue-in-cheek, humorous and delightfully camp incarnation of the cowled vigilante. Indeed some big-name actors queued up to play the show's villains including: the Penguin (Burgess Meredith), the Catwoman (Lee Meriwether), the Joker (Cesar Romero) and the Riddler (Frank Gorshin). Alas, Adam West himself became Hollywood typecast and following the series he struggled to find quality work. Further, because Batman was made in the 1960s long before home entertainment, the rights to the series delayed any video/DVD release until 2014! However he did voice Batman in a number of superhero animations. He also more recently appeared in a number of episodes in the cartoon series Family Guy as 9-minute video tribute here. Much loved by many SF fans for his campy Batman, he never relied on a padded bat-suit and his only contained 100%, grade-A West. +++ See the following short vids: The Best of 1966 Batman, Bruce Wayne / Batman has a conversation with himself and finally Which actor played Batman the best?.
Jack Wodhams, the British-born, Australian writer has died aged 85. He wrote mainly short stories of a hard SF and often a problem-solving vein. He wrote three novels. Two, The Authentic Touch (1971), Looking for Blücher (1980) concerned technology going wrong (in a kind of Westerworld (1973) sort of way). The third, Ryn (1982), set in the near future involves a person of colour reincarnated as a Caucasian.
Autumn 2017
End Bits & Thanks
More science and SF news will be summarised in our Spring 2018 upload in January
plus there will also be 'forthcoming' spring book releases, plus loads of stand-alone reviews.
Thanks for information, pointers and news for this seasonal page goes to: Ansible, Arno Behrend, Pierre Gevart, Marcin 'Alqua' Klak, Caroline Mullan and Peter Tyers, Pete Wyndham with separate articles elsewhere this edition by Arthur Chappell, Marcin 'Alqua' Klak, Paul McAuley, Lee Murray, Dan Rabarts, Darian Smith, Peter Tyers, and Jim Walker. Thanks for news coverage goes not least to the very many representatives of SF groups and professional companies' PR/marketing folk who sent in news. These last have their own ventures promoted on this page. If you feel that your news, or SF news that interests you, should be here then you need to let us know (as we cannot report what we are not told). :-)
A full list of contributors including our book review panel members and behind-the-scenes folk is given each year (January) at the end of our northern hemisphere Spring edition. (See also our regular team members list page.)
News for the next seasonal upload – that covers the Spring 2018 period – needs to be in before the 2nd week in December (remember Christmas and New Year gets in the way). News is especially sought concerns SF author news as well as that relating to national SF conventions: size, number of those attending, prizes and any special happenings.
To contact us see here and try to put something clearly science fictional in the subject line in case your message ends up being spam-filtered and needs rescuing.
Be positive – Help spread SF news to fellow enthusiasts -- Bookmark as appropriate below:
Or alternatively
Very many thanks. Meanwhile feel free to browse the rest of the site; key links below.
---
[Up: Science Fiction News Index | Recent Site Additions | Author Index to Fiction & Non-Fiction Book Reviews | Home Page: Concatenation]
[ Year's Film & Convention Diary | One Page SF Futures Short Stories | SF Convention Reviews | SF Film Charts | Articles | Whimsy with Gaia ]
[Originally posted 17.9.15 | Contact | Copyright | Privacy Editorial | Site Origins/History]